Lisa Chudomelka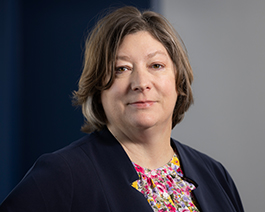 Program Manager for Engagement
Lisa Chudomelka is Program Manager for Engagement at the National Strategic Research Institute at the University of Nebraska, the DOD-designated University Affiliated Research Center sponsored by U.S. Strategic Command.
Chudomelka facilitates the NSRI Fellows and NSRI Independent Research and Development (IRAD) programs. Cultivating a collaborative environment with faculty across the University of Nebraska System's four campuses is critical to NSRI continuing to provide solutions to USSTRATCOM, the DOD and federal government partners in strategic and integrated deterrence as well as countering weapons of mass destruction. Chudomelka leads NSRI efforts to develop a faculty fellow core that contributes to problem-solving, idea generation and contract procurement.
She brings 25 years of experience in the academic realm, most recently devoting her expertise to the University of Nebraska Medical Center in the divisions of pulmonary, critical care and sleep medicine as well as allergy and immunology. She supported several basic research efforts for the divisions, including but not limited to grant writing, editing, submission and procurement; manuscript editing and submission; and regulatory compliance.
Chudomelka earned her bachelor's degree in English from Doane College and her master's degree in news-editorial journalism from the University of Nebraska–Lincoln College of Journalism and Mass Communications.
COOKIE USAGE:
The University of Nebraska System uses cookies to give you the best online experience. By clicking "I Agree" and/or continuing to use this website without adjusting your browser settings, you accept the use of cookies.