Recruit. Employ. Mentor.
As a trusted agent of the federal government, NSRI supports national interests and strategies by providing the Department of Defense and other federal agencies with evolutionary and revolutionary solutions to the dangerous and emerging threats of today and of the future.
One of the most critical solutions is a knowledgeable, capable and committed workforce equipped to carry forward 21st-century national security missions. NSRI invests its time, talent and resources into developing students from the University of Nebraska and beyond to pursue defense-related careers.
NSRI offers several ways for students to engage:
Internships through NSRI
Contributing to projects through NU faculty researchers
Wargaming experiences hosted by NSRI
2021 Strategic Deterrence Interns
After 3,200 hours of intense research, writing, coding and collaborating, NU undergraduate students and ROTC cadets briefed their NSRI internship experience and the resulting online wargame to none other than Lt. Gen. Thomas Bussiere, deputy commander of U.S. Strategic Command.
Watch the video and read our release to get their insights!
Read Release
Student Internship Opportunities
The NSRI Accounting Intern is responsible for supporting financial and accounting areas, including, but not limited to accounts payable, credit card processing, enter invoices into system, general ledger accounting, and account reconciliations. The Accounting Intern will perform various Accounting and Finance responsibilities in a high-visibility, fast-paced environment to ensure accomplishment of NSRI's overall mission. This position will report to the Accounting and Finance Manager.
Duties & Responsibilities: Monthly duties will provide credit card reconciliation and reviewing the SAP online purchase. Reconciling the G/L accounts, ensure all invoices for credit cards and SAP transactions are accurately coded to specific projects, and ensure necessary approvals are in place supporting the expense. Assist in maintaining records in the NSRI Cost Point accounting system database; to include entering data and reconciling expenses to monthly reports. Comply with records retention policies and procedures.
Required Skills/Capabilities
Experience with Microsoft Office Suite and Adobe Acrobat
Proficient using Excel and analyzing financial data
A high level of organization with ability to research and recall information
Strong time management, prioritization and critical thinking skills
Provide Accounting Administrative support as needed
Excellent written and verbal communication skills
Must be a self-starter
Ability to work with diversity and multi-disciplinary teams
Detail-oriented and efficient
Minimum Level of Education
Applicant should be a Business, Accounting/Finance or other relevant major
Completed at least one-year of a four-year undergraduate degree program
GPA of at least 3.0 on a 4.0 scale
Apply
Students of NSRI@headingTag>
Each year NSRI connects students to DOD-research experiences. Some of these students choose to pursue careers in national security after their time with NSRI.
Wargaming Exercises@headingTag>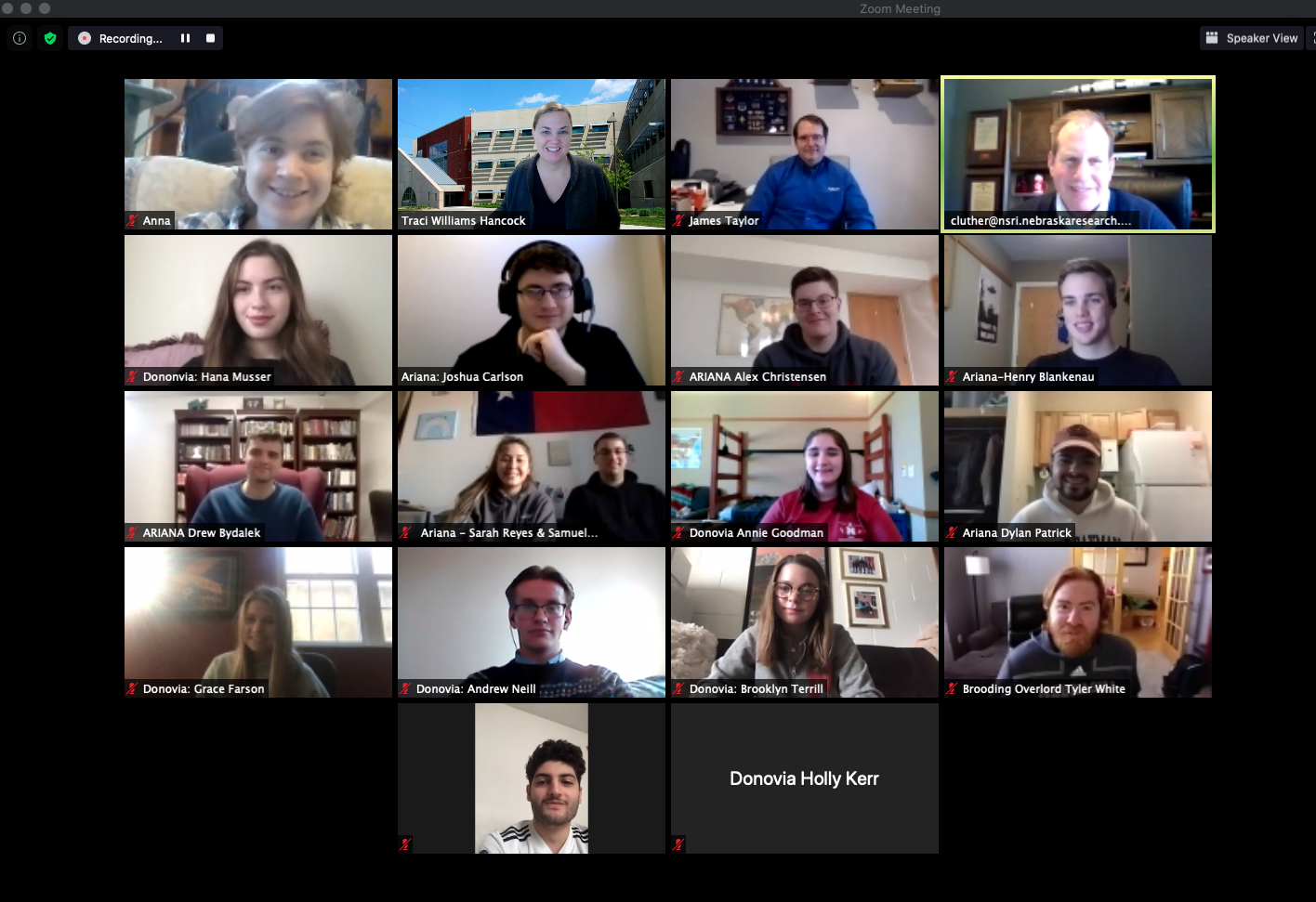 Through roleplaying, wargaming unearths unique insights and variables in complex and competitive situations that wouldn't necessarily arise in simple discussions or brainstorming. The technique allows participants to gain better insight into decision-making.
Wargames can be applied to any competitive scenario, from global politics to local business to risk management. NSRI uses wargames to bring students together to discover potential solutions to the country's most perplexing issues.
Connect with us below if you are interested in participating in or creating a wargame for students.
NSRI hosts Army vs Air Force ROTC virtual wargame for WPI
Connect With Us
Have a question about an application or do you want to partner to create a new student opportunity? Let us know!
Connect
COOKIE USAGE:
The University of Nebraska System uses cookies to give you the best online experience. By clicking "I Agree" and/or continuing to use this website without adjusting your browser settings, you accept the use of cookies.