Patrick Rhoads, MS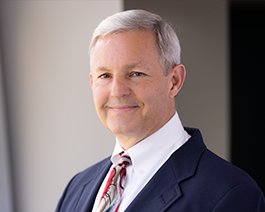 Research Director
Nuclear Enterprise Support
Patrick Rhoads the Research Director for the Nuclear Enterprise Support Program at the National Research Institute at the University of Nebraska, the DOD-designated University Affiliated Research Center sponsored by U.S. Strategic Command.
Rhoads helps direct NSRI's nuclear enterprise support program. While NSRI directly supports its sponsor, U.S. Strategic Command, its efforts in nuclear enterprise are broader than STRATCOM. The NES program serves the complementary needs of STRATCOM's federal partners in managing the nation's nuclear deterrent. These partners include the Department of State, other organizations within the Department of Defense, the Department of Energy's National Nuclear Security Administration (NNSA), and the Department of Homeland Security.
Rhoads started his career fresh from the University of Nebraska. Coming to NSRI reunites him to his roots. He graduated as a regent's scholar in three years. He studied chemical engineering at the University of Nebraska at Omaha before completing his degree at the University of Nebraska–Lincoln.
After graduating, Rhoads was commissioned in the U.S. Navy. He served six years at the headquarters of the prestigious Naval Reactors Program. He excelled there as a systems engineer for nuclear submarines and prototypes.
In his civilian career, Rhoads held many managerial and technical positions in what would become NNSA, which stood up in 2000. Some of his accomplishments include:
directing the operations of the production facilities in the Nuclear Weapons Complex, costing more than $1 billion per year;
acting as the program manager for the acquisition of three different nuclear facility acquisitions, each over $1 billion;
performing services as the Chief of Staff in three different organizations;
standing up a new office with budget authority over greater than $2 billion a year;
acting as a leader in the formulation of nuclear safety and project management standards;
leading the Office of Policy
In his 38-year federal career, Rhoads rose to the executive level in 2004 and retired at this level 16 years later.

After receiving his bachelor's degree at UNL, Rhoads went on to earn master's degrees in nuclear reactor engineering, engineering management and national security strategy.

Rhoads met his bride, Stasia, while serving as naval officer in the Washington, DC area. They have made their home there since they married in 1987. They have three grown children and, as of February 2021, three grandchildren.

Beyond work life, Rhoads has been a community leader in youth basketball programs and youth ministry. He published a book entitled, The Gospel Truth: You Can't Make This Up, which assesses the historicity of the gospels by employing the systems engineering process, which he has used for nearly forty years.
Connect With NSRI
As the DOD-designated University Affiliated Research Center (UARC) of U.S. Strategic Command and the University of Nebraska System, the National Strategic Research Institute (NSRI) delivers solutions for strategic deterrence and CWMD mission requirements gaps. Our rapid-response capabilities and efficient contracting vehicle can help federal government program managers meet critical research and development needs. Connect with us to learn more.
Get Started
COOKIE USAGE:
The University of Nebraska System uses cookies to give you the best online experience. By clicking "I Agree" and/or continuing to use this website without adjusting your browser settings, you accept the use of cookies.