Model-guided control of nanofiber orientation in nanomanufacturing of next-gen air filters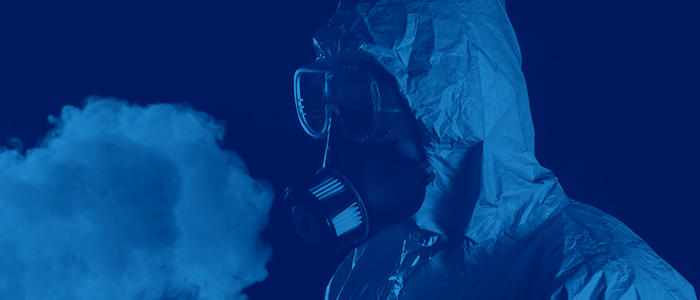 Filtration of inhaled air is the primary measure in protecting the respiratory system from hazardous biological and chemical aerosols. Improving the filtering efficiency of modern personal protective equipment is significantly limited by the concomitant increase in breathing resistance.
One promising way to resolve this contradiction is the development of new filter materials with fibers 500-1000 times thinner than human hair — also known as nanofibers. This NSRI IRAD project, funded in August 2022, focuses on theoretical and experimental aspects of controlling the structure of nanofibrous filter materials.
The research team's two mechanical engineers, Salkovskiy and Dzenis, bring long-term experience in theoretical modeling of the nanofiber formation process, development and testing of nanomaterials and scaling up laboratory nanomanufacturing technologies. Combined with Crown, a research biologist with extensive expertise in biological and chemical defense, this unique collaboration provides an excellent opportunity for the target-specific design of filtration materials for DOD-related applications and further translation of technologies.
The team expects that by adjusting the orientation of nanofibers, filtration efficiency will be improved, breathing resistance reduced and the mechanical properties of the filter will be enhanced. This project will lay the groundwork for developing a range of systems for aerosol filtration, from large-scale air purification to ultra-light personal protective equipment to enhance the protection of military and civilian personnel from existing and potential threats.
A graduate student will be involved in the project, and the research results will be used in a graduate-level course on wearable materials for biomechanical performance currently being developed at the Department of Biomechanics at the University of Nebraska at Omaha.
Research Team
Principal Investigator: Yury Salkovskiy, assistant professor of biomechanics at the University of Nebraska at Omaha
Kevin Crown, NSRI senior scientist in biology
Yuris Dzenis, R. Vernon McBroom professor of mechanical and materials engineering at the University of Nebraska–Lincoln
COOKIE USAGE:
The University of Nebraska System uses cookies to give you the best online experience. By clicking "I Agree" and/or continuing to use this website without adjusting your browser settings, you accept the use of cookies.