Aimee Ketner, Ph.D.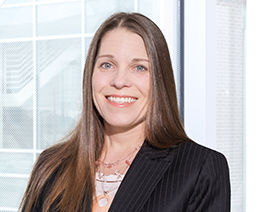 Deputy Director
Chemical & Biological Defense Programs
Dr. Aimee Ketner is the Deputy Director of Hazard Mitigation at the National Strategic Research Institute at the University of Nebraska, the DOD-designated University Affiliated Research Center of U.S. Strategic Command.
Since 2018, Dr. Ketner has led and supported NSRI's efforts to develop technologies for the defense against chemical and biological warfare. She has led hazard mitigation research, development, testing and evaluation efforts, supporting the defense against biological warfare agents for the Defense Threat Reduction Agency and other government agencies within the DOD. Dr. Ketner has also provided scientific and engineering support to multiple efforts in chemical and biological defense at NSRI.

Before joining NSRI, Dr. Ketner worked at the Naval Surface Warfare Center in Dahlgren, Virginia, where she was a lead engineer and principal investigator in chemical, biological and radiological defense. She led a multidisciplinary team, focusing on biological warfare agent defeat research with direct applicability to warfighter capability gaps for the Department of Defense.
Dr. Ketner started her career at the Naval Surface Warfare Center Dahlgren Division in the Chemical and Biological Defense Research and Experimentation Branch as a chemical engineer. She performed materials research and testing, field testing of counter improvised explosive devices (IEDs) for the Joint Counter Radio-Controlled IED Electronic Warfare program and aided in the development of filtration and barrier performance models for the Joint Expeditionary Collective Protection System Performance Model.
During her time at Dahlgren, Dr. Ketner also held many positions in support of STEM outreach; volunteering her time for as a mentor, serving as the coordinator for the annual STEM outreach summer academy and serving as a STEM outreach coordinator for an in-school outreach program tailored toward middle school students.
While at Dahlgren Dr. Ketner received several awards and recognitions, including the Human Awareness Award in 2012 and the Dr. Charles J. Cohen Award of Excellence for Science and Technology in 2014.
Dr. Ketner received her doctorate in chemical and biomolecular engineering from the University of Maryland, College Park. Her research focused on the development and design of Photorheological fluids. She has presented at numerous technical conferences and authored several technical papers. She received her bachelor's degree in chemical engineering from Virginia Polytechnic Institute and State University.
Connect With NSRI
As the DOD-designated University Affiliated Research Center (UARC) of U.S. Strategic Command and the University of Nebraska System, the National Strategic Research Institute (NSRI) delivers solutions for strategic deterrence and CWMD mission requirements gaps. Our rapid-response capabilities and efficient contracting vehicle can help federal government program managers meet critical research and development needs. Connect with us to learn more.
Get Started
COOKIE USAGE:
The University of Nebraska System uses cookies to give you the best online experience. By clicking "I Agree" and/or continuing to use this website without adjusting your browser settings, you accept the use of cookies.