Rick Arestad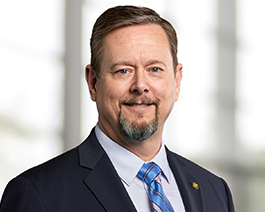 Senior Scientist
Chemical & Biological Defense Programs
Rick Arestad is a Senior Scientist of Technical Collections for Chemical and Biological Defense Programs at the National Strategic Research Institute at the University of Nebraska, the DOD-designated University Affiliated Research Center sponsored by U.S. Strategic Command.
Arestad has more than 30 years of experience in countering weapons of mass destruction (CWMD) and chemical, biological, radiological and nuclear (CBRN) response, emergency management and clinical laboratory science. Before joining NSRI, Arestad was the emergency management specialist for the Department of Defense (DOD), Biological Select Agents and Toxins (BSAT) Biosafety and Biosecurity Program Office (BBPO). While at the BBPO, he was instrumental in developing policies to improve management, coordination, safety and quality assurance for the DOD BSAT enterprise.
Arestad spent 12 years at the U.S. Army's Medical Research Institute of Infectious Diseases (USAMRIID) as a microbiologist and as coordinator of the Field Identification of Biological Warfare Agents (FIBWA) program. In this capacity, Arestad's experience was invaluable in the education and training of hundreds of DOD personnel as well as federal, state and local first responders.
While at USAMRIID, Arestad participated in the 2014 Ebola outbreak response, developing and implementing a training program to prepare DOD personnel for deployment to Liberia. In addition, he developed and implemented a rigorous quality assurance program for all DOD and Laboratory Response Network laboratories taking part in the Ebola response.
From 1986 to 2006, Arestad served in various capacities on active duty with the U.S. Army. His final assignment, before retiring in 2006, was at Ft. Detrick, Maryland, as non-commissioned officer in charge of the bio-detection section of the 520th Theater Area Medical Laboratory (TAML), the Army's only forward deployed, biological threat detection laboratory.
In 2001, Arestad deployed with the 520th TAML to the Winter Olympic Games in Salt Lake City, Utah, to provide bio-detection surveillance for the city and all Winter Olympic venues.
Arestad deployed again with the 520th TAML in 2003 in support of Operation Iraqi Freedom where the laboratory provided theater level bio-detection capability. Arestad received the Bronze Star award for his actions in the Iraqi theater of operations.
Arestad holds a master's of science degree in health science from Trident University, Cypress, California.
COOKIE USAGE:
The University of Nebraska System uses cookies to give you the best online experience. By clicking "I Agree" and/or continuing to use this website without adjusting your browser settings, you accept the use of cookies.