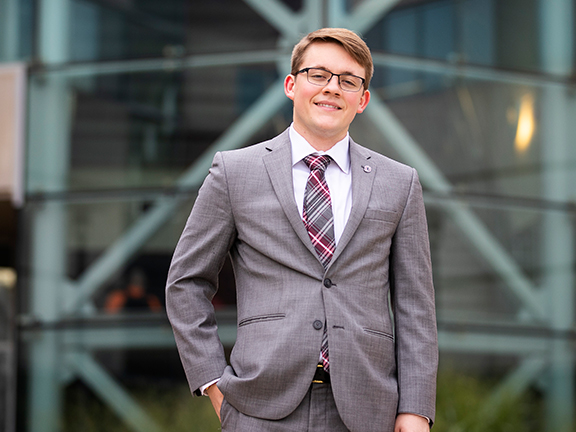 Meet Dylan Christiansen, senior computer science major at the University of Nebraska at Omaha.
Dylan teamed up with three other University of Nebraska students this summer to research and develop an innovative method to increase communications reliability that could support the nation's future Nuclear Command, Control and Communication (NC3) architecture at U.S. Strategic Command. Specifically, Dylan and a fellow student developed a simulation to show the applicability of their overall findings, which focused on adapting Airborne Mesh Communication networks.
Q: What was most interesting about working on this project?
A: The simulation I worked on, it's one of my favorite projects ever. We were given flexibility and freedom to explore, and I worked with another person, which added another aspect of real-world applicability. When people ask what I worked on, and I say with people who are dealing with nuclear codes, their jaw drops to the floor.
Q: What did you learn through this work?
A: Obviously the content itself was a huge learning experience, but I also learned that having a fresh take is so important.
Q: How has your work moved the discipline forward?
A: Our focus on NC3 systems is not the only question being asked, it is a piece of the puzzle. It is important to better define how we fit into the puzzle. The people we presented our final paper and simulation to were impressed with what the team had come up with in such a short amount of time. As interns and having little background on NC3 we approached the problem differently than someone who has been working with NC3 for years. The NC3 team liked this fresh approach to things.
Q: Why should other students intern through NSRI?
A: There is a great network of highly professional people, intelligent people, who have connections. There are opportunities for students to work on projects that require a security clearance. This can open more doors for people interested in careers that support national security. Are you a student interested in working with NSRI? Or would you like to support students to work with NSRI? Great! Contact Traci Hancock, NSRI Deputy Director Strategic Engagement and Innovation.