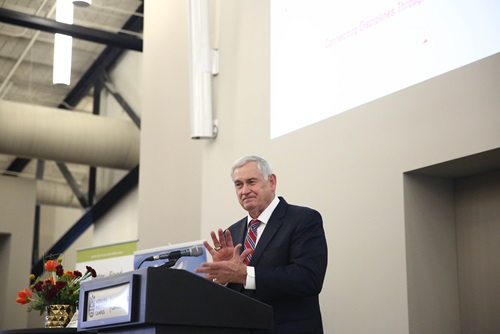 In celebration of those who have dedicated their lives to keep this country safe, on behalf of the University of Nebraska and the National Strategic Research Institute, thank you for your service.
Beyond our words of gratitude, however, there is consistent, unwavering focus from the university to support those with a mission of decisive deterrence and defense.
Through the NSRI, the university serves as one of just 14 University-Affiliated Research Centers in the country — a trusted agent of the Department of Defense for research, development, engineering and training. In seven years of existence, our institute has been called up by 40 federal agencies for a total of $155 million in the funding of 107 research contracts.
Led by expert researchers from the University of Nebraska and the National Strategic Research Institute, the outcomes of this work are critical, and the purpose and passion behind them are inspiring.
Keely Buesing, an assistant professor of surgery at the University of Nebraska Medical Center, is part of a team developing a life-saving solution to traumatic lung injury. Oxygenated microbubbles are engineered to release oxygen into the abdomen, providing the patient with the oxygen they need to survive while bypassing damaged lung tissues. This kind of technology would allow for the treatment of multiple warfighters with minimal equipment and could be scaled for a mass casualty event.
"I cannot overstate the appreciation and gratitude I have for the often thankless tasks and missions our military complete to protect this country and the rights of all civilians," she said. "If the investigations and studies we perform in our collaborative labs potentially save the lives of these selfless women and men, we are extremely humbled and proud to be able to offer them our services."
For 20 years Adam Plowcha served in the Navy where he was surrounded by leading technologies and engineering in naval aircrafts, ships and submarines — he called it "mind boggling," and I can attest to that description after 33 years of service myself.
"Every single piece of gear was, at some point, invented by someone," he said. "The chance that I could possibly contribute some small piece of helpful technology or engineering to the service members who are currently serving or might someday serve is what motivates me."
Now a graduate research assistant in computer science and engineering at the University of Nebraska-Lincoln, Plowcha and his colleagues in the Nebraska Intelligent Mobile Unmanned Systems Lab are developing a drone with the capability to autonomously implant sensors into the ground in remote locations. One of the many implications of this work is to keep service members out of harm's way.
But one of the biggest threats to our warfighters and our future national security is the lack of STEM-trained American scientists and engineers. Beyond the numbers themselves, those who are trained need to be made more aware of the opportunities they have to serve the defense-related agencies of the federal government.
This is a role the University of Nebraska must continue to play.
This semester Paul Davis, assistant professor of biology at the University of Nebraska at Omaha, is leading 14 undergraduate and graduate researchers through biosecurity-related technology development for the Department of Defense.
"Students often first look to the university to help them be prepared for their careers," he said. "The university provides opportunities to gain high-level skills, advance understanding and translate all of this to address needs in real-world situations.
"We are preparing students for the workforce, not just the classroom."
With the future nuclear enterprise requirements of U. S. Strategic Command, a partner of the university and sponsor for NSRI's UARC designation, our continued expansion in systems engineering, information systems and technologies, modeling and simulation are critical. We must continue to tailor curriculum in cognitive learning, advanced analytics and cyber solutions.
And we must continue creating intern programs that expose young people to challenging career opportunities. These initiatives create options for students and graduates to not only serve our country in their areas of expertise, but do so within our state.
We are proud to celebrate our veterans each November, but I promise that solutions for those serving in defense of this country are diligently pursued and created all year round — it is our purpose.
Again, to our veterans, thank you for your service and the many sacrifices you and your families have made for our country and the fundamental freedoms we enjoy every day.