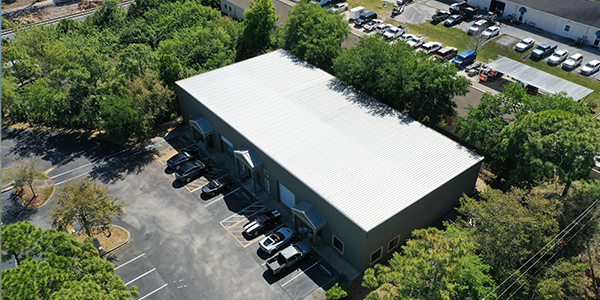 The National Strategic Research Institute (NSRI) at the University of Nebraska has opened a new facility in Melbourne, Fla. The 4,100-square-foot building, adjacent to Patrick Air Force Base and less than 25 minutes from Cape Canaveral Air Force Station and NASA's Kennedy Space Center, is well-positioned geographically to host, execute and expand scientific and engineering projects efficiently for federal sponsors.
Given that access to laboratory space aboard military installations is limited and approvals to operate on bases requires long lead times, NSRI's new facility provides customers capabilities that can be controlled and rapidly modified to fit project requirements.
"The most exciting part is being able to execute work and create solutions that have real-world applications," said David Roberts, NSRI deputy director for technical collection. "This step will allow us to provide end-users who are in the field with solutions to real-world problems. It is personally and professionally satisfying to provide a method or develop equipment that has an impact on our soldiers in the field."
Roberts is joined at the new facility by Daniel Ackerman, NSRI technical collection support specialist. They have already hosted a primary sponsor who intends to use the new laboratory space for work with NSRI beginning later this month.
The new laboratory will also offer a home-base for NSRI to host University of Nebraska students as interns during the summer. Plans for the 2020 intern program are currently postponed due to the COVID-19 mitigation efforts, but a strong internship program focused on providing students with hands-on work and inspiring careers supporting federal government customers will launch as soon as possible.
"I encourage government agencies and other academic institutions to leverage this facility with NSRI," said Lt. Gen. (Ret.) Robert Hinson, NSRI executive director. "It is a great example of our responsiveness to customer and partner needs and a testament to our efforts in countering our greatest national security threats going forward. We look forward to what we will accomplish together with colleagues."
For more information please visit nsri.nebraska.edu.
About the National Strategic Research Institute
Founded in 2012, the National Strategic Research Institute (NSRI) at the University of Nebraska is the only University Affiliated Research Center (UARC) in the country dedicated to delivering solutions for Combating Weapons of Mass Destruction (CWMD) to U.S. Strategic Command (USSTRATCOM) and across other federal agencies. NSRI provides research and development for the U.S. Department of Defense, Department of Homeland Security and other governmental agencies in multiple mission-critical competency areas — including development of medical countermeasures to WMD; nuclear detection and forensics; consequence management; chemical and biological weapons detection; and space, cyber, and telecom law. Learn more at nsri.nebraska.edu.