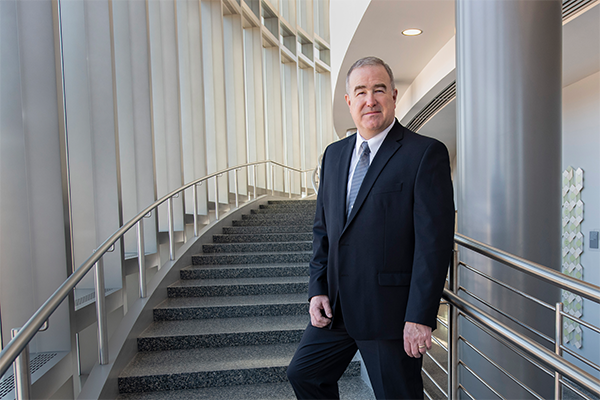 Maj. Gen. (Ret.) Richard J. Evans III has been hired as the deputy executive director of the National Strategic Research Institute (NSRI) at the University of Nebraska (NU).
Evans, who most recently served as director of reserve forces and mobilization assistant to the commander at U.S. Strategic Command, will provide leadership and support for research programs consistent with the educational and scientific goals of NSRI and NU.
He will develop mission-relevant resources including technical, analytical and human capital assets while facilitating projects to advance methods, systems and novel materials for countering weapons of mass destruction (CWMD). Finally, he will direct collaboration with sponsors and stakeholders within the CWMD community.
"Rick's accomplished military career, filled with so many contributions and achievements, will be invaluable to NSRI and the university as we build upon our many successes over the past seven years," said Lt. Gen. (Ret.) Robert Hinson, NSRI executive director. "Rick's leadership will play a significant role in connecting NSRI and the University faculty, researchers and students to the requirements of the warfighter and sponsors we serve. I'm excited to have him as part of our NSRI University-Affiliated Research Center (UARC) team."
Prior to his retirement from the U.S. Air Force and Nebraska Air National Guard on Oct. 1, 2019, Evans served as the principal advisor to the USSTRATCOM commander on reserve component matters related to the command's diverse missions, including:
Strategic deterrence and assurance
Nuclear operations
Nuclear command, control and communications
Space and cyberspace operations
Full-spectrum global strikeIntegrated missile defense
Joint electromagnetic spectrum operations
Joint warfare analysis
Evans received his commission in 1984 as a distinguished graduate of the Air National Guard Academy of Military Science. He has commanded at the detachment, squadron, group and wing levels. His operational flying assignments include more than 4,000 hours flying time as instructor weapon systems officer in the RF-4; instructor and evaluator navigator in the KC-135 Stratotanker and evaluator Airborne Emergency Actions Officer (AEAO) onboard the USSTRATCOM E-6B Airborne Command Post. He participated in a variety of combat operations during his military career.
Evans' staff assignments include:
Wing-level operations, plans, tactics and personnel assignments
Special Assistant to the Director, Air National Guard in 2010 for the Quadrennial Defense, Nuclear Posture, Space Posture and Ballistic Missile Defense Reviews
Acting Director for Space and Information Superiority at the National Guard Bureau
National Reconnaissance Office Liaison Officer to U.S. Strategic Command
Director, Mobility Forces for North Atlantic Treaty Organization (NATO) Operation Unified Protector (Libya)
Evans also served as the elected Chair of the Air National Guard's KC-135 and Space, Intelligence, Surveillance and Reconnaissance and Cyber Weapon System Councils and was a member of the Air Directorate Field Advisory Council from 2004 to 2012.
Evans is an Omaha native, graduating from Omaha Northwest High School and the University of Nebraska at Omaha in 1984.
"Through NSRI, the University of Nebraska offers critical support to our national security in multiple areas that are growing in importance," Evans said. "NSRI's expertise on deterring and countering weapons of mass destruction is an especially important and unique asset to the nation.
"To be part of an academic institution, in my home state, that is delivering important research and opportunities to grow the next generation of scientists in these mission areas is really exciting. I am honored to join NSRI and the University of Nebraska team and look forward to contributing to the great work being done here."
About the National Strategic Research Institute
Founded in 2012, the National Strategic Research Institute (NSRI) at the University of Nebraska is the only University Affiliated Research Center (UARC) in the country dedicated to delivering solutions for Combating Weapons of Mass Destruction (CWMD) to U.S. Strategic Command (USSTRATCOM) and across other federal agencies. NSRI provides research and development for the U.S. Department of Defense, Department of Homeland Security and other governmental agencies in multiple mission-critical competency areas — including development of medical countermeasures to WMD; nuclear detection and forensics; consequence management; chemical and biological weapons detection; and space, cyber, and telecom law. Learn more at nsri.nebraska.edu.