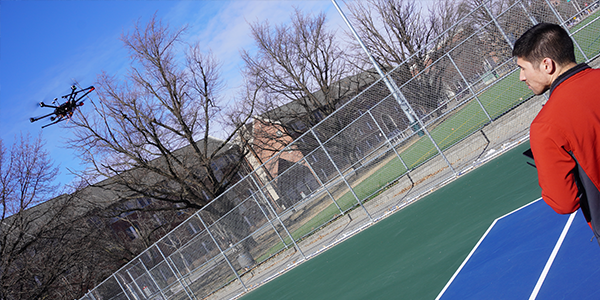 Recent task order work brought David Roberts, NSRI Deputy Director of Technical Collection, and Daniel Ackerman, NSRI Biological Support Specialist, to the University of Nebraska–Lincoln campus last week.
With dedicated space in the Biological Process Development Facility (BPDF) at the University of Nebraska–Lincoln (UNL), NSRI has been able to respond efficiently to customer needs. The facility provides large-scale production of biological components with flexible scheduling, something larger facilities and institutions are not able to accommodate.
Combining the facility with NSRI personnel's technical expertise has created a one-stop solution for all biological materials, meeting all of the government's requirements. Unique production methods conducted under government programs at BPDF also offer students hands-on opportunities utilizing these new methods and techniques.
Of note, quick approval from the University, the Lincoln Airport Authority and UNL Campus Police allowed NSRI to operate a commercial Unmanned Aerial System (UAS) on campus. This is a milestone for NSRI, allowing the Institute to offer the unique capability of conducting UAS operations to support testing in urban environments with licensed remote pilots Roberts and Ackerman.
View more of the University of Nebraska's leading facilities.
About the National Strategic Research Institute
Founded in 2012, the National Strategic Research Institute (NSRI) at the University of Nebraska is the only University Affiliated Research Center (UARC) in the country dedicated to delivering solutions for Combating Weapons of Mass Destruction (CWMD) to U.S. Strategic Command (USSTRATCOM) and across other federal agencies. NSRI provides research and development for the U.S. Department of Defense, Department of Homeland Security and other governmental agencies in multiple mission-critical competency areas — including development of medical countermeasures to WMD; nuclear detection and forensics; consequence management; chemical and biological weapons detection; and space, cyber, and telecom law. Learn more at nsri.nebraska.edu.