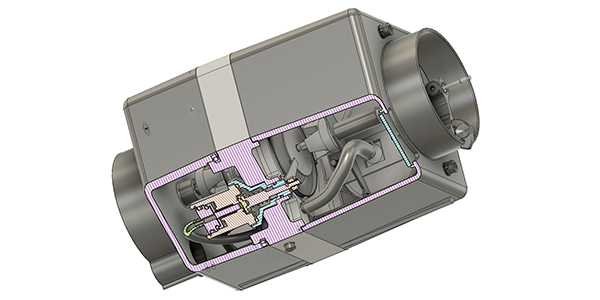 As-built Bird Mark 7 respirator.
To respond to the significant international shortage of life-saving ventilators to care for patients suffering from COVID-19, an interdisciplinary team including UCDavis, Livermore Instruments and the National Strategic Research Institute (NSRI) at the University of Nebraska are working to update a 1960's era ventilator, the Bird Mark 7, to reintroduce it to the market for surge emergency manufacturing.
The Bird Mark 7 is the most-common and reliable non-electrical, oxygen-tank-powered ventilator. While NSRI and Livermore Instruments are actively seeking manufacturing partners, the original CAD models are available in the public domain here to facilitate maintenance of existing units and the creation of spare parts. Extended details and updates are available at mark-19.com.
Download models
These models are not intended for direct reproduction but to assist with maintenance on the existing Mark 7 fleet and to inspire other designers.
The CAD models currently represent the original design, but the team is working to update them for modern manufacturing and to reduce the number of parts required. The updates will account for changes in oxygen tank connections and add features such as positive-end-expiratory pressure to ensure a patient's lungs stay inflated and cannot collapse.
The production efficiency of this design is possible through molding, the use of the previously approved respirator with its simple-to-use functionality and reduced global supply-chain dependencies. 3D printing is also being used as a critical design and testing tool and to make an alternative, future-ready version for a time when 3D printing has displaced injection molding.
The total estimated cost of the updated ventilators is targeted at $700 but will depend on the number manufactured. The extremely low cost is due to there being no electrical component, no additional FDA approval needed and the growth in competition of the market for ventilators.
"We are being extremely aggressive in pushing forward this concept and design to production given the circumstances of our country," said Lt. Gen. (Ret.) Robert Hinson, NSRI executive director. "What we need now are partners and sponsors to step forward in the areas of manufacturing engineering and funding. Our timeline is immediate."
As reverse engineering on immediate design alterations nears completion, the team — led by David Fergenson of Livermore Instruments and Sean Kinahan of NSRI with engineers and pulmonary physicians — hopes to further update the design so advanced manufacturing and 3D-printing can decentralize production for future emergency pandemics and limited-resource scenarios. They will also test produced systems on an existing Acute Respiratory Distress Syndrome (ARDS) pig model for safety.
"When we got into the Bird Mark 7, we realized it could be made on a massive scale in a way that the more modern ventilators just can't," Fergenson said. "We need to respond to this opportunity and get this redesigned ventilator into the hands of our health care practitioners immediately. We welcome colleagues to join us to make this happen."
To connect with this team, please contact Sean Kinahan or David Fergenson.
About the National Strategic Research Institute
Founded in 2012, the National Strategic Research Institute (NSRI) at the University of Nebraska is the only University Affiliated Research Center (UARC) in the country dedicated to delivering solutions for Combating Weapons of Mass Destruction (CWMD) to U.S. Strategic Command (USSTRATCOM) and across other federal agencies. NSRI provides research and development for the U.S. Department of Defense, Department of Homeland Security and other governmental agencies in multiple mission-critical competency areas — including development of medical countermeasures to WMD; nuclear detection and forensics; consequence management; chemical and biological weapons detection; and space, cyber, and telecom law. Learn more at nsri.nebraska.edu.