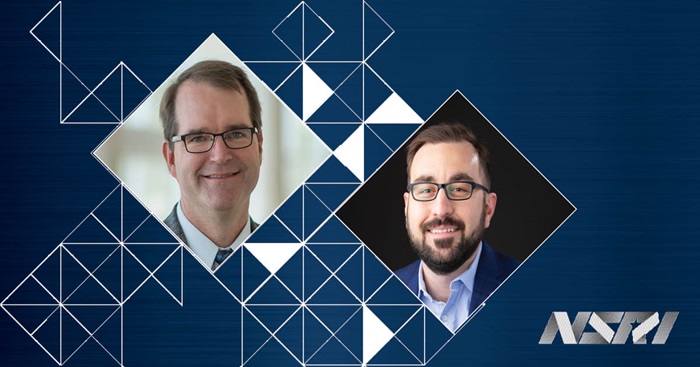 A team of nuclear enterprise and software engineering experts from the National Strategic Research Institute (NSRI) and the University of Nebraska at Omaha recently presented research findings to senior leaders of U.S. Strategic Command (USSTRATCOM).
The NSRI team, led by Dr. James Taylor, director of USSTRATCOM mission systems, and supported by Dr. Matthew Hale, assistant professor in the school of interdisciplinary informatics at the University of Nebraska at Omaha (UNO), focused on examining the rigorous Navy and Air Force nuclear certification processes, identifying differences in certification approaches, assessing guidance and directives and determining opportunities for improvements that continue to ensure safe, secure and effective system delivery to the warfighter.
"I'm so proud of the work our interdisciplinary team accomplished in researching this mission-critical element of our nuclear enterprise," Dr. Taylor said. "NSRI took an independent look at the nuclear certification process, which has served the nation well over the years by adding extra design and procedural safeguards to avoid any adverse incident involving nuclear weapons. Our experts analyzed the current process from many angles and identified opportunities to streamline the certification process and provide enhanced mission assurance throughout the system's life cycle."
Having previously worked with the Air Force Office of Scientific Research (AFOSR), Dr. Hale brought a broad perspective of software engineering and was instrumental in developing NSRI's conceptual redesign of the nuclear certification process.
At AFOSR, Dr. Hale developed a compliance calculus that helped facilitate web service system certification. Since joining UNO in 2014, Dr. Hale has completed projects related to software architecture and Secure DevOps. From his perspective, the nuclear certification area could benefit significantly from new-age software development and cybersecurity paradigms.
"I was drawn to the project because it sounded like an interesting interdisciplinary application area," he said. "I've learned ways of approaching a problem as a commander would. It is always refreshing to expand my ability to speak the same parlance as others. Being able to translate details into a format that is actionable but still sufficiently nuanced to convey the importance of this analysis was a significant outcome for USSTRATCOM, OSD and me."
As is a common occurrence with NSRI-related projects, Dr. Hale is pursuing opportunities beyond this initial project to contribute significantly to USSTRATCOM's defense-related mission space. Conceptual redesign for better holistically securing weapon systems of this kind against advanced cyber threats is fertile ground for further work. In particular, there is space for prototyping and testing authoritative truth and traceability-enabling frameworks.
This foresight into the space is driven by Dr. Hale's deep passion for the overall contribution the field of cybersecurity brings toward the country's national security.
"Privacy, security, availability and access to resources for all are all really important concepts," he said. "They touch upon how our society defines 'the self,' and they are the building blocks that enable us to be free. Without those, we are subject to attack. I think I got involved in cybersecurity subconsciously in a pursuit to help build a future the internet remains a force for good. This project is a tangible outcome of this broader pursuit — I'm very proud to have been a part of it."
About the National Strategic Research Institute
Through the National Strategic Research Institute at the University of Nebraska leading scientists deliver innovative national security research, technology, product and strategy development, training and exercises, and subject matter expertise to the Department of Defense and other federal agencies.One of only 14 DoD-designated University Affiliated Research Centers in the country, NSRI is sponsored by U.S. Strategic Command and conducts research to support the United States' security, safety and preparedness against increasingly sophisticated and evolving threats.

###