Like so many organizations, agencies and businesses across the country and around the world, the National Strategic Research Institute at the University of Nebraska has adapted its deliverables throughout the COVID-19 mitigation efforts. We continue to meet the needs of those we support through training, including incorporating their mitigation procedures.
The NSRI field operations and training team recently conducted a hybrid online/in-person course with a Combat Capabilities Development Command (CCDC) Chemical Biological Center (CBC) Chemical Biological Applications and Risk Reduction (CBARR) Team.
Given the context of the pandemic, the CBARR team was being tasked with management of Sars-CoV-2 missions and needed to adapt their existing equipment, procedures and training to ensure success. NSRI supported this need by adapting and augmenting CBARR's current chemical downrange operations and equipment to accommodate biological incidents.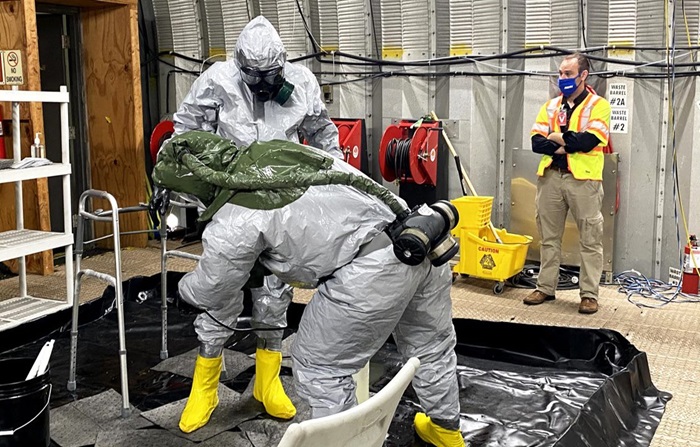 Operators in gray chemical protective suits learn how to decontaminate a Powered-Air-Purifying Respirator.
Before any training took place, we worked with Program Manager Amy Dean and Biosafety Advisor Melinda Soethe to assess CBARR's current status and identify recommendations on equipment and standard operating procedures.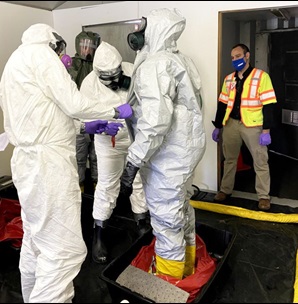 Instructor Paul Brantmier observes operators performing an assisted-Doffing.
We've always prided ourselves on the hands-on component of our courses, and we truly invest in making this portion of our training the focus because we believe it is not only the best way for participants to learn but the best way for participants to be able to act when they must.
To ensure this part of the training was not sacrificed, we worked closely with the CCDC program manager to provide student manuals ahead of an online session. Fifty personnel throughout CCDC took advantage of these virtual options. Dr. Michael Glass, virologist and biological hazard mitigation subject matter expert, led the online lecture.
Then, about 24 personnel went on to conduct donning and doffing exercises in-person in small groups, staggered and distributed over time during on-site training.
The importance of this biological hazard mitigation course is that it was literally "adapter" training. Essentially, the course was designed to show how personnel could adapt what they already had, acquire a few new tools and extend a few new tools to a biological incident. There were many different skills levels, so we ensured everyone came away with something new.
The hybrid model of online prep with small-group, hands-on training proved to be less efficient overall but keeping online lectures short, providing an opportunity for engagement and keeping the online webinar close to the date of the hands-on training helped bring it all together.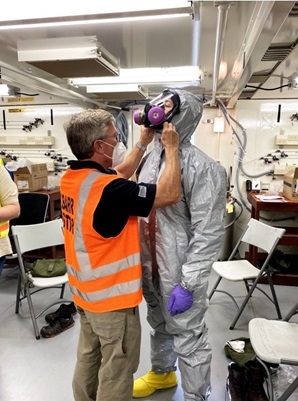 Instructor Dr. Micheal Glass assists
participant with some suit/mask seal.
My suggestion to participants and program managers who are navigating training needs is to ensure the technology is going to handle the task and conduct virtual test sessions with the various types of credentials that will be logging in. We jointly conducted several test meetings on platforms before finally selecting one that would present the least problems. Also, ensure you have at least a tertiary contingency plan for the presentation.
While there are certainly necessities and advantages to moving as much as we can online at this time, the NSRI field operations and training team is here to continue providing mission-critical training to our response teams across the nation with the safest and most productive delivery we can.
If we've learned anything during this unprecedented time, it is that we can't be too prepared.
Learn more about our courses at nsri.nebraska.edu/fot.