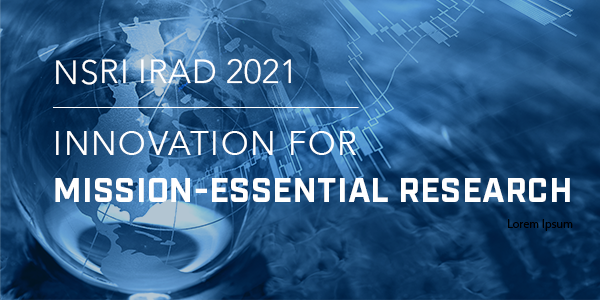 The National Strategic Research Institute (NSRI) at the University of Nebraska (NU) is accepting project proposals from NU faculty, researchers, students and staff for independent research and development (IRAD) funding.
Projects should develop technical capabilities and competencies that enable science, technology and engineering in support of United States Strategic Command and customers across the Department of Defense (DOD).
Up to six projects will be awarded at $15,000 - $25,000 each. Phase I project proposals are due 15 January 2021, and all details are available at nsri.nebraska.edu/IRAD.
Through NSRI IRAD, the institute will catalyze innovation at NU that enables deterrence of, preparedness for and response to strategic national security threats across multiple domains. NSRI seeks to leverage the university's intellectual capacity, capabilities and facilities to even more proactively serve its customers focused on countering weapons of mass destruction (CWMD).
"In addition to its subject matter expertise, NSRI is convenor and connector of ideas and deliverables from the University of Nebraska to the DOD," said Lt. Gen. (Ret.) Robert Hinson, NSRI founding executive director. "Through this IRAD funding initiative, we aim to spark the inventiveness of our colleagues and peers in a new and exciting way. We must always be thinking ahead to the next threat and the next solution."
Proposals that enhance research, development and training capabilities within NSRI's focus areas are all encouraged. However, proposals should seek to fulfill a significant need within the following priority areas.
NSRI IRAD 2021 priorities:
Chemical sciences: Develop catalytic methods that have the potential to safely and rapidly eliminate stockpiles of chemical warfare agents such as sulfur mustard, sarin, and/or VX.
Nuclear matters: Research and exploration into escalation visualization methods for rapid and accurate understanding at the decision maker level.
Strategic mission systems: Develop a new framework to bring together diverse data streams (hard and soft data, along with context-based sentiment) to help make assessments about how well the U.S. strategic deterrence strategy is working.
Training: Identify and address critical gaps in national capability to address public health and medical needs during pandemics and WMD events.
Biological sciences: Examine the use of synthetic biology to combat WMD through the development of modified organisms that could be used to protect warfighters from exposure to threats or to destroy threat agents (chemical, biological radiological). NSRI also seeks proposals to examine the ability to understand and predict the impact of mutations on viral phenotypes.
"We are considering both strategic and tactical investments," said Dr. Josh Santarpia, NSRI research director for CWMD programs. "High-risk R&D lays the foundation for new programs and R&D that bridges the gap between existing research and sponsor needs is always critical.
"I look forward to working with my colleagues at NSRI and across the University of Nebraska in this new way. We have the potential to bring forward our next real phase of growth."
The request for proposal, proposal submission form and extended priority details are available at nsri.nebraska.edu/IRAD.
About the National Strategic Research Institute
Through the National Strategic Research Institute at the University of Nebraska leading scientists deliver innovative national security research, technology, product and strategy development, training and exercises, and subject matter expertise to the Department of Defense and other federal agencies. One of only 14 DoD-designated University Affiliated Research Centers in the country, NSRI is sponsored by U.S. Strategic Command and works to ensure the United States' safety and preparedness against increasingly sophisticated threats.
###