With $15 million in funding, the National Strategic Research Institute at the University of Nebraska ranked 8th in Nebraska in 2019 for top defense contractors, private- and public sector vendors that were the largest recipients of Department of Defense obligations.
This is according to the Fiscal Year 2019 Defense Spending by State report published by the Department of Defense's (DoD) Office of Local Defense Community Cooperation 13 January 2021.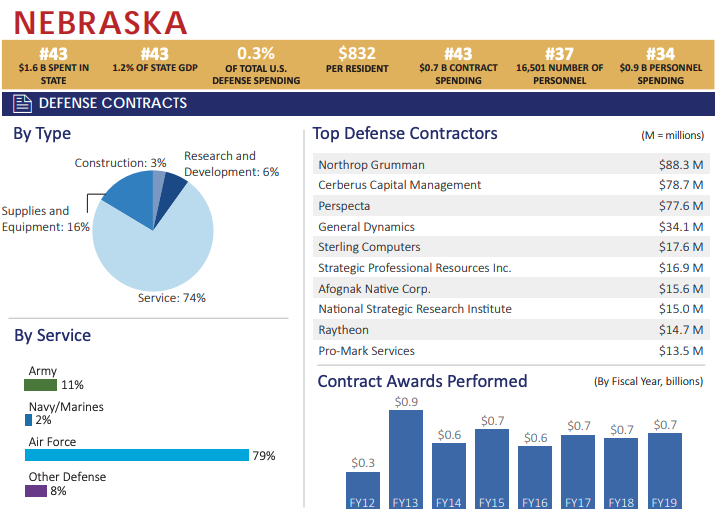 Northrop Grumman and Cerberus Capital Management lead the list at $88.3 million and $78.7 million, respectively. "This is a testament to the capabilities available and quality of deliverables achieved by NSRI and the University of Nebraska since the institute was established," said Maj. Gen. USAF (Ret.) Rick Evans, NSRI interim executive director. "Being among the largest awardees in the state for Defense Department work demonstrates the strong foundation our institute is currently propelling forward from to meet our mission."
NSRI is the University Affiliated Research Center (UARC) of the University of Nebraska, established in 2012 to provide mission-essential research and development capabilities for its sponsor United States Strategic Command as well as other DoD components and federal agencies focused on strategic deterrence and national security.
NSRI and hundreds of researchers and students from the University of Nebraska have served more than 40 DoD and federal government agencies since 2012.
The focus areas for the institute include:
The Defense Spending by State report aims to help states and communities better understand defense personnel and contract spending in their localities. Access the full report at oea.gov/defense-spending-state-fiscal-year-2019.