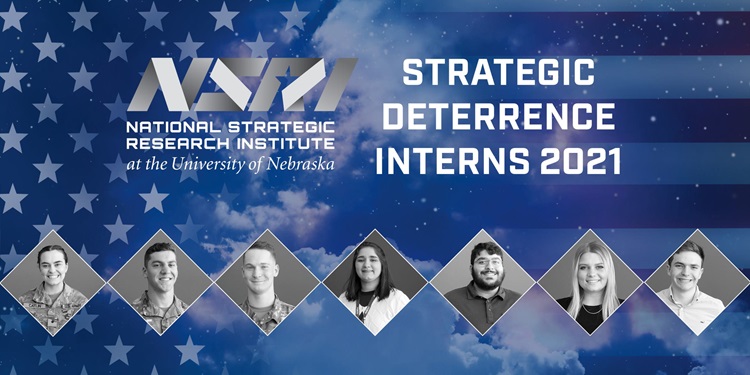 From left: Taylor Catlin, Frank Miele, Hayden Maxwel, Annie Goodman, Neil Koul, Grace Farson, Dylan Araujo
The National Strategic Research Institute (NSRI) at the University of Nebraska is welcoming eight undergraduate and graduate students from the University of Nebraska–Lincoln, University of Nebraska at Omaha, Eastern Illinois University, Pennsylvania State University and University of Vermont this summer as strategic deterrence interns.
The interdisciplinary joint civilian and Reserve Officers' Training Corps (ROTC) student team will transform NSRI's existing limited nuclear conflict tabletop exercise into a remotely playable format, allowing leaders and operators from the Department of Defense (DOD), civilian support teams from the federal government and students from academic institutions to more efficiently access the exercise and gain critical exposure to this growing threat.
"One of the greatest challenges we face as a country is maintaining and developing the next generation of our country's national security workforce," said Maj. Gen., USAF (Ret.) Rick Evans, NSRI interim executive director.
"I'm proud that our institute not only educates students regarding the opportunities across our mission space for their skill set but immerses them in the realities our country is facing and solicits their ideas for solutions. This internship, focused on U.S. Strategic Command's (USSTRATCOM) No. 1 mission objective of strategic deterrence, is just one great example of how students contribute to our work."
— Maj. Gen., USAF (Ret.) Rick Evans, NSRI interim executive director
As the University Affiliated Research Center of USSTRATCOM, NSRI holds significant expertise across nuclear weapons enterprise support. This exercise focuses on developing a deeper understanding of nuclear warfare demanded by the challenges emerging in the global competition environment. Originally created as an in-person experience for the Defense Threat Reduction Agency, the exercise re-introduces participants to nuclear strategy concepts, operational planning processes and tactical nuclear capabilities.
Throughout the experience, participants investigate potential Russian employment of nuclear weapons in a conflict with Ukraine. They are confronted with a surprisingly different type of nuclear conflict involving weapons of very-low-yield down to ultra-low yields. The exercise has received very high effectiveness reviews for its eye-opening revelations about how the U.S. must be prepared to deter such a nuclear strategy.
"Given our success with the game thus far and the unfolding geopolitical tensions in Ukraine, there is a clear opportunity for NSRI to be responsive to national security needs by rapidly exposing several others within the DOD and U.S. government to this exercise," said Dr. Christopher Yeaw, NSRI research director for nuclear programs and lead creator of the exercise.
"To have such high-caliber students contributing to this important effort is very exciting. My hope is that by submerging them into this growing challenge we will ignite their interest to pursue the many facets of strategic deterrence within their promising careers."
— Dr. Christopher Yeaw, NSRI research director for nuclear programs
Together, the students — whose areas of study range from cybersecurity to psychology to mathematics to political science and more — will research the current escalating tensions in the region and artfully and realistically devolve them into a conflict scenario where Russia's suspected strategy is executed.
The students are then charged with creating an elegant user interface that allows the participants to keep their situational awareness up and collaborate efficiently with other distributed team members.
The effort will adopt agile software development techniques, introduce lean methodology and design thinking concepts and highlight the complex deterrence missions of USSTRATCOM.
"I decided my freshman year that I really wanted to work in national security, so I took those classes and ever since then I've just been driven toward nuclear deterrence, and I think it's just so interesting," said Grace Farson, mathematics major from the University of Nebraska–Lincoln.
"I want to work at USSTRATCOM or in that realm, so to build those connections and get my foot in the door through this experience is a great opportunity."
— Grace Larson, UNL student
2021 NSRI Strategic Deterrence Interns
Dylan Araujo
Software Engineering
University of Nebraska–Lincoln

Grace Farson
Mathematics
University of Nebraska–Lincoln
Annie Goodman
Political Science, Emergency Management
University of Nebraska–Lincoln
Neil Koul
Cybersecurity, Computer Engineering
University of Nebraska at Omaha
Hayden Maxwell
Army – ROTC
Security, Risk Analysis, Military Studies
Pennsylvania State University
Jessie Mell
Army – ROTC
Political Science, Military Science, Music
Eastern Illinois University
Frank Miele
Army – ROTC
Psychology, Arabic
Pennsylvania State University
Taylor Catlin
Army – ROTC
Psychological Science, Chinese
University of Vermont
"I'm a civilian, so having the cadets is a really cool aspect of this experience," said Neil Koul, cybersecurity and computer engineering graduate student at the University of Nebraska at Omaha. "I've never experienced anything with the military, so having that joint perspective is really interesting.
"Really I could graduate and go work for a Fortune 500 company and code all day and not really have purpose. I just feel the things that I will do at NSRI can make a difference — have an impact on the people around us."
— Neil Koul, UNO student
###
About the National Strategic Research Institute
Through the National Strategic Research Institute at the University of Nebraska leading scientists deliver innovative national security research, technology, product and strategy development, training and exercises, and subject matter expertise to the Department of Defense and other federal agencies. One of only 14 DOD-designated University Affiliated Research Centers in the country, NSRI is sponsored by U.S. Strategic Command and works to ensure the United States' safety and preparedness against increasingly sophisticated threats. Read about our mission.