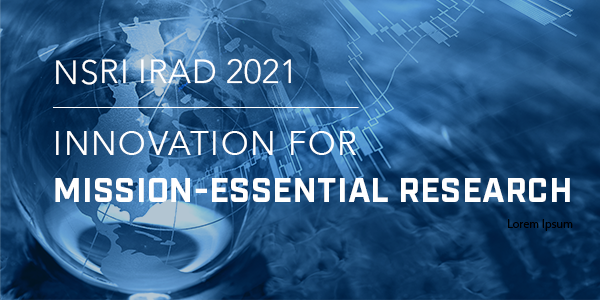 The National Strategic Research Institute (NSRI) at the University of Nebraska (NU) has selected seven projects developed by NU researchers to receive its first-ever independent research and development (IRAD) funding, totaling $165,000.
Ranging from developing an agent to protect from COVID-19 to understanding the neuroscience of national security decision making to building sensors for detection of weapons of mass destruction (WMDs) and more, the 2021 NSRI IRAD projects continue to prove University of Nebraska researchers and students have tremendous capacity for innovation and foresight in the realm of national security.
"Each of these projects will allow NSRI to move toward its mission in a new way," said Maj. Gen., USAF (Ret.) Rick Evans, NSRI executive director. "It is our aim as a University Affiliated Research Center to not only maintain essential scientific and engineering capabilities for use by the Department of Defense, but to be constantly seeking the next solution to the next potential threat. Our NU colleagues are on the leading-edge in their fields, and we are proud to spur their creativity through this program."
Principal investigators for the seven projects hail from the University of Nebraska–Lincoln, University of Nebraska Medical Center and University of Nebraska at Omaha. Disciplines include biology, political science, electrical and computer engineering, mechanical engineering, pharmacology and nursing.
Four students are already identified to be involved in the project work, a pride point for NSRI, which constantly seeks opportunities for immersive student experiences in defense research.
Each project aligns directly with a NSRI research focus area, ensuring movement toward key NSRI objectives across nuclear weapons enterprise support, chemical and biological threat detection and countermeasure development, medical countermeasures and response and threat-based training and exercise support.