Strategic deterrence interns from the National Strategic Research Institute (NSRI) at the University of Nebraska (NU) recently briefed the final research deliverables from their internship experience to Lt. Gen. Thomas Bussiere, deputy commander of U.S. Strategic Command.
Hosted at the command's headquarters at Offutt Air Force Base, Omaha, Nebraska, the one-hour briefing provided an opportunity for the NU students and ROTC cadets from several institutions to share their growing knowledge of strategic deterrence and final products from three research projects:
Road-to-war for a new NSRI wargame
Game theory for the tripolar deterrence environment
Best practices for mitigating cyber vulnerabilities induced via electromagnetic spectrum pathways
"Strategic deterrence is not a static concept, and neither is research," Bussiere said. "I am so appreciative of the work NRSI does for strategic deterrence and our national security. Your research is setting the stage for the future of deterrence and has to be followed through and implemented. That's why we need people like these future leaders to join us in the Strategic Command enterprise."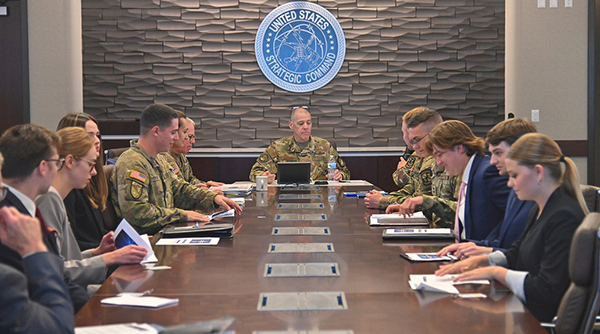 Lt. Gen. Thomas Bussiere sits at the head of the table during the 2022 NSRI strategic deterrence interns' one-hour briefing. USSTRATCOM headquarters, Offutt Air Force Based, Omaha, Nebraska. Photo by Technical Sergeant Taylor Drzazgowski, public affairs specialist.
Through the internship experience the interns leveled up their expertise in national security, their skills in their disciplines and their confidence as professionals, all of which were demonstrated through their individual briefing contributions to Lt. Gen. Bussiere.
In just four weeks the five ROTC cadets developed a comprehensive road to war for a forthcoming NSRI wargame that will investigate very low and ultra-low yield nuclear employment in a conflict between China and Taiwan. Developing the road to war required research into the current escalating tensions in the region and then artfully and realistically devolving these tensions into a conflict scenario where potential nuclear employment can be examined.
"I have learned that without the effectiveness of nuclear deterrence, in particular, other national security efforts could not be successful," said Gavin Morse, ROTC cadet and international relations major at Washington University. "The continuous exposure to strategic level deterrence has inspired me to continue work in this sector."
A cohort of four NU students applied game theory to understand and model deterrence strategies among multiple competitors, specifically the U.S., Russia and China. Game theory provides a rational framework based on the construction of rigorous models that describe situations of conflict and cooperation between rational decision makers.
"I'm taking away quite a bit of knowledge on game theory, a topic that I knew little about before starting this internship," said Grant VanRobays, political science major at the University of Nebraska at Omaha. "Game theory is fundamentally about breaking down decision making into a series of moves by each player in the 'game.' I can take this mindset to help improve my own decision-making skills."
Under the umbrella of electromagnetic spectrum operations, two NU students investigated best practices to mitigate cyber vulnerabilities induced via radio frequency (RF) pathways. A specific interest area in this research is whether crowd-sourced ethical hacking could be a viable solution. Understanding the latest RF threat mitigation efforts emerging in the commercial world, which was the focus on the students' work, will allow for more informed recommendations to guide USSTRATCOM's cybersecurity.
"I have developed my professional skills, namely my comfort level briefing slides to executive leaders, and the hands-on experience provided through this internship supplements my education in such a way that a traditional classroom experience could not," said Jordan Schnell, cybersecurity operations major at the University of Nebraska at Kearney.
"In addition to solidifying my career choice of cybersecurity, this internship has excited my interest in the space of national security. Moving forward, I hope to engage in work that will not only benefit the cyber realm, but also the overall security of the nation."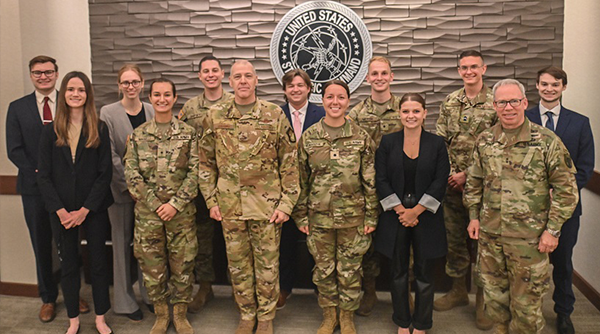 From left back: Derek Pavelka, Nina Preston, Cole Janofsky, Caden Punteney, Gavin Morse, Michael White, Grant VanRobays. From left front: Jordan Schnell, Gerilyn Maselli, Lt. Gen. Thomas Bussiere, Molly Kubaszyk, Grace Farson, Maj. Gen. Gregory Brady. Photo by Technical Sergeant Taylor Drzazgowski, public affairs specialist.
2022 NSRI strategic deterrence interns
Grace Farson
Mathematics
University of Nebraska–Lincoln
Cole Janofsky
U.S. Army
Public health
Georgia Southern University
Molly Kubaszyk
U.S. Army
Political science
Butler University
Gerilyn Maselli
U.S. Army
International and public affairs
Brown University
Gavin Morse
U.S. Army
International relations
Washington University
Derek Pavelka
Mathematics and political science
University of Nebraska at Omaha
Nina Preston
Economics
University of Nebraska at Omaha
Caden Punteney
Computer science
University of Nebraska–Lincoln
Jordan Schnell
Cybersecurity operations
University of Nebraska at Kearney
Grant VanRobays
Political science
University of Nebraska at Omaha
Michael White
U.S. Air Force
Chemistry
Norwich University
As the NSRI internship program continues to evolve and grow, the institute has remained focused on the purpose of the effort — to introduce high-caliber, passionate young people to the career possibilities that exist in defending the nation against strategic attack, said Maj. Gen., USAF (Ret.) Rick Evans, NSRI executive director.
"There are few times I am as proud as when I sit in that briefing room watching and listening to these students and cadets share not only their technical efforts but their pride in what they have accomplished and what it means," Evans said. "It gives me great confidence to know that our next generation of professionals are interested in and ready to take on the national security challenges that will surely face our nation in the coming years and decades.
"We appreciate USSTRATCOM's attention to these students' efforts as well as the investment of time and expertise university and NSRI researchers have provided to ensure the students have a great experience."
###
About the National Strategic Research Institute
Through the National Strategic Research Institute at the University of Nebraska leading scientists deliver innovative national security research, technology, product and strategy development, training and exercises, and subject matter expertise to the Department of Defense and other federal agencies. One of only 14 DOD-designated University Affiliated Research Centers in the country, NSRI is sponsored by U.S. Strategic Command and works to ensure the United States' safety and preparedness against increasingly sophisticated threats. Read about our mission.