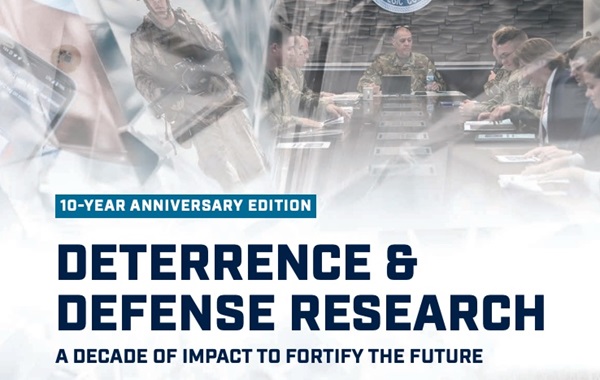 The National Strategic Research Institute (NSRI) at the University of Nebraska (NU) has published its 2022 biennial report entitled, "Deterrence and defense research: A decade of impact to fortify the future." The report is available at nsri.nebraska.edu/2022report.
Featuring project deliverables, researcher profiles and student anecdotes, the 2022 report highlights the impacts of the institute from July 1, 2020 – June 30, 2022.
"Summarizing the last two years is a difficult challenge," says Maj. Gen., USAF (Ret.) Rick Evans, NSRI executive director, in the opening message of the report. "Despite the ups and downs of operating during uniquely dynamic times, our team responded to ongoing COVID-19 mitigation efforts, delivered critical national security research, retooled training, grew our expertise and launched promising new partnerships and programs.
"While it is impossible to quantify my pride in this team and our partners who pulled together to find solutions, this report crystallizes NSRI's impact throughout the past two years and celebrates the anniversary milestone of a decade of this institute."
The institute reports 147 contract awards from 48 sponsoring agencies for a total of $207.5 million total award value since it was established in 2012. Within the reporting period, specifically, 78 NU researchers and 64 NU students contributed to 65 active projects.
NSRI also doubled down on its efforts to engage NU researchers within its mission, aiming to amplify contributions to Department of Defense customers through a new NSRI Fellows program and NSRI independent research and development (NSRI IRAD) program. More than 120 NU researchers have been appointed NSRI Fellows, and 12 projects have been funded for a total of $352,000 through NSRI IRAD.
Projects highlighted in the report include but are not limited to:
Research for strategic deterrence: Focused on the geopolitical features of the new tripolar era, NSRI is convening NU researchers and providing expertise and solutions to the USSTRATCOM Commander's 2022 Analytical Agenda.
Full-scale chemical and explosive training: NSRI trainers and scientists hosted and facilitated chemical and explosive training exercises for more than 100 active-duty personnel from multiple organizations to advance participants' knowledge on threat synthesis, precursors and equipment.
Device development for perimeter defense: NSRI convened NU students and researchers to create and demonstrate a rapidly deployable network of early-warning detectors and collectors of biological agents.
Development of military medical personnel assessment tools: Thanks to NSRI's UARC status, an NU researcher rapidly completed a contract with a DOD entity to create assessment tools that measure the skills of frontline military medical personnel.
To celebrate the tenth anniversary as NU as the DOD-designated University Affiliated Research Center (UARC) of U.S. Strategic Command, each research focus area underscores significant projects, researchers and teams that have served as a foundation for the institute since it was launched in 2012.
Ted Carter, University of Nebraska System President, said: "I'm deeply grateful for the trust and confidence the Department of Defense and U.S. Strategic Command have placed in NSRI and the University of Nebraska to support their mission. Time and again over the last decade, the university, through NSRI, has delivered innovative research and development to protect our nation and the women and men who serve. NSRI has helped to harness the expertise and excitement of faculty and researchers across the university system to advance national security, and I look forward to many more years of partnership and success."
ADM Charles Richard, U.S. Strategic Command Commander, said: "The researchers and students at NSRI and the University of Nebraska are an integral part in informing and shaping the strategic deterrence mission. This partnership is critical to our ability to maintain insight and foresight for strategic deterrence within evolving national security challenges. We must continue to be innovative in how we harness the intellectual capacity of our teams in order to be prepared for the future."
VADM Carl Mauney, NSRI Board of Directors Chairman, said: "For over a decade, NSRI has filled an important role among the Department of Defense and in particular, U.S. Strategic Command, and the university ­— engaging, building understanding and aligning needs with capabilities of Nebraska's researchers to solve tough national security challenges. I congratulate the NSRI and university team for dedicating their energy, strong cultures of innovation and deep skills bench so effectively, and I look forward to an exciting future."
Jeffrey Gold, UNMC chancellor and NU Executive Vice President and Provost, said: "The strategic partnership between the university and U.S. Strategic Command is priceless, catalyzing research and development that has landed in the hands of warfighters and first responders and providing tremendous opportunities to students to launch careers in national security. Our aim is to enhance the exponential impact of this work going forward."
###
About the National Strategic Research Institute
Through the National Strategic Research Institute at the University of Nebraska leading scientists deliver innovative national security research, technology, product and strategy development, training and exercises, and subject matter expertise to the Department of Defense and other federal agencies. One of only 14 DOD-designated University Affiliated Research Centers in the country, NSRI is sponsored by U.S. Strategic Command and works to ensure the United States' safety and preparedness against increasingly sophisticated threats. Read about our mission.