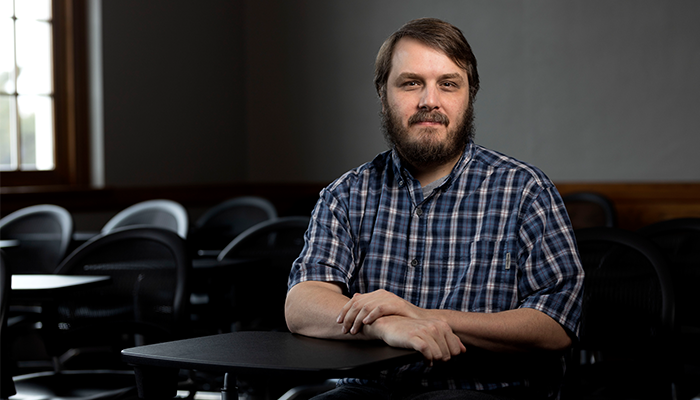 Meet Dr. William Kramer
An assistant professor in Industrial and Organizational (I/O) Psychology at the University of Nebraska Omaha, Dr. Kramer completed his doctorate in industrial and organizational (I/O) psychology from Clemson University in 2018. His main research interests include:
Examination of teams in unique contexts (e.g., virtual teams, interdisciplinary, spaceflight)
Impact of national culture on team processes
Leadership emergence
Use of novel statistical approaches (e.g., latent profile analysis, neural networks) for theory development and analysis.
Dr. Kramer has worked on grants funded by a number of different organizations including NASA, ARI, ARL, NSF and the DOD. He has co-authored more than 15 peer reviewed publications and more than 70 conference presentations. He serves on the editorial board for Frontiers in Psychology and as a reviewer for multiple journals including Small Group Research, Organizational Psychology Review, Human Resource Management Review and International Journal of Cross-Cultural Management.
Q&A
Why are you interested in supporting national security? 
As an industrial and organizational (I/O) psychologist, I have an inherent interest in human behavior at work. This can vary broadly from optimizing new hire training to ensuring that military teams have the skills necessary to achieve their goals.
My primary interest is in studying group dynamics and training for teams in unique, high-risk contexts. It is a genuine pleasure whenever I can channel my skills and help those who keep us safe.
What national security challenges do you think you could offer your expertise to solve? 
As a researcher who primarily studies human interaction in teams, I have the benefit of being able to offer my assistance toward any challenges that require interpersonal communication and/or coordination. This can range from dyads of individuals to systems of teams within an organization.
Previous experience creating training programs in a military context and being an expert on effective training and debriefing design makes me a useful resource if a project involves developing an effective training/learning program.
How do you think your area of expertise can contribute to national security challenges? 
I believe that I/O psychologists are underused in addressing national security challenges. While our field is typically tapped for organizational issues like selection procedures and training of employees, I feel our area could aid in a wealth of other projects.
For example, I/O psychologists are trained in psychometrics. We can aid in any study that requires validation of a survey measure, a noninvasive algorithm predicting behaviors, coding of movements, etc. Moreover, as mentioned previously, any challenge that requires a training and/or debriefing component could benefit from an expert on current training research.
What do you see in the next five or 10 years in your space that you think is important for national security leaders to consider? 
Following many different fields, I believe that I/O psychology is turning toward developing an understanding of how we can monitor and observe human behavior without the need for invasive methods (e.g., surveys). The surge of research on big data and digital exhaust has caused a wealth of information on this topic and opened the opportunity for a naturalistic approach to examining human behavior.
The Society for Industrial and Organizational Psychology has indicated that three of the top ten trends for the coming year lie in better understanding employee well-being and health. Due to the nature of national security work, I think that this is an important consideration as more extreme work environments are prone to stress and burnout.
What are you working on right now that excites you and why?
I am currently working with some of my wonderful graduate students on data collection to answer some very important questions in the realm of I/O psychology. Namely, what are the components that go into determining whether a problem-solving team in an ambiguous task environment has effective results? Would we be able to develop interventions that promote problem solving and creative solutions? Also, what happens after trust is broken in a virtual team? How can we work to repair the damage that is caused when we have less face-to-face interaction?
Recent Publications
Learn more about Dr. Kramer at unomaha.edu and connect with him on LinkedIn.
###
About the National Strategic Research Institute
Through the National Strategic Research Institute at the University of Nebraska leading scientists deliver innovative national security research, technology, product and strategy development, training and exercises, and subject matter expertise to the Department of Defense and other federal agencies. One of only 14 DOD-designated University Affiliated Research Centers in the country, NSRI is sponsored by U.S. Strategic Command and works to ensure the United States' safety and preparedness against increasingly sophisticated threats. Read about our mission.