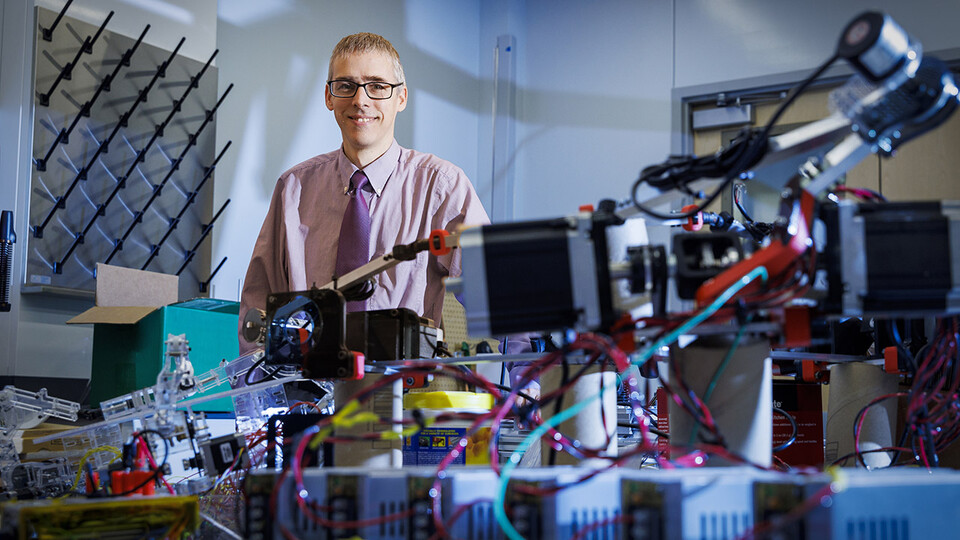 Meet Dr. Carl Nelson
Dr. Nelson has been on the faculty at the University of Nebraska–Lincoln (UNL) since 2005. His research focus includes robotics, mechanical systems design and applications, including medical devices and medical robotics. He teaches in the areas of kinematics, design and medical devices.
Dr. Nelson is a Fellow of the American Society of Mechanical Engineers (ASME) International and a Senior Member of the National Academy of Inventors (NAI). He has authored well over 200 peer-reviewed research publications and is named as an inventor on over a dozen patents.
Q&A
Why are you interested in supporting national security?
Efforts to support national security are in everyone's best interest. I'm happy to join others in finding solutions to problems with national security implications. Even prior to my involvement with NSRI, I worked on projects related to surgical robotics and battlefield medicine.
What national security challenges do you think you could offer your expertise to solve?
I am most interested in finding ways to protect — or to enhance the protection of — those who are serving our country and who are in harm's way.
With my background spanning robotics, mechanical design and medical technologies, I aim to work on a broad range of national security issues where these skill sets can contribute to concepts evolving toward practical solutions.
What do you see in the next five or 10 years in your space that you think is important for national security leaders to consider?
Robotics and automation technologies are growing by leaps and bounds, and this growth is changing landscapes — in service industries, manufacturing, defense and others. These technologies can also easily bleed across boundaries to find diverse applications. This is something that I believe thought leaders in national security should keep a close eye on, both in terms of opportunities and threats.
What are you working on right now that excites you and why?
Among other projects, I worked on projects related to surgical robotics, battlefield medicine, and rehabilitation. I enjoy this type of work because of the broad possibilities for practical applications, as well as the element of discovery involved in finding out what is possible in exploring these design spaces. Read more about these projects:

Learn more about Dr. Nelson at engineering.unl.edu.


###
About the National Strategic Research Institute
Through the National Strategic Research Institute at the University of Nebraska leading scientists deliver innovative national security research, technology, product and strategy development, training and exercises, and subject matter expertise to the Department of Defense and other federal agencies. One of only 14 DOD-designated University Affiliated Research Centers in the country, NSRI is sponsored by U.S. Strategic Command and works to ensure the United States' safety and preparedness against increasingly sophisticated threats. Read about our mission.