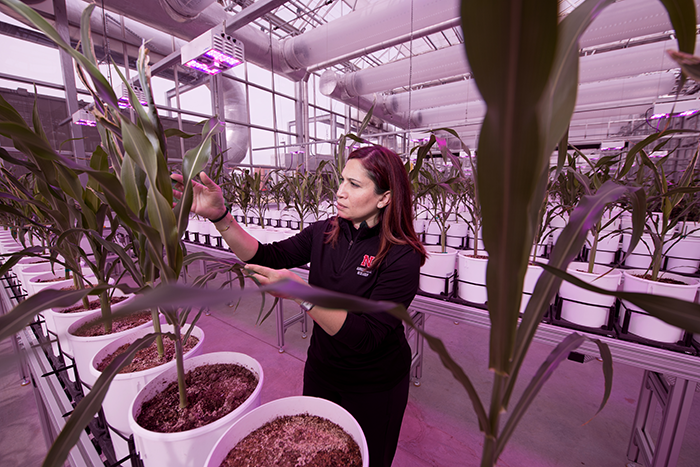 Defense of the United States is an undertaking that requires the help of experts from a wide array of obviously related disciplines — physics, engineering, computer science, political science and more. One discipline that might not immediately come to mind is plant ecophysiology.
Meet Dr. Tala Awada, physiological plant ecologist and associate dean of the Agricultural Research Division at the University of Nebraska–Lincoln Institute of Agriculture and Natural Resources (IANR). Dr. Awada, a National Strategic Research Institute (NSRI) Fellow, is working to bring her discipline — and others throughout IANR — forward for U.S. national security.
The need for plant and environment research in defense may not be immediately apparent, but our environment and the world's ability to produce food is incredibly important. War can put that stability at risk. The war in Ukraine and its impact on food security is, of course, one case in point.
"Many countries in the Middle East and Africa import 50 to 90 percent of their wheat from Ukraine," Dr. Awada said. "Consequently, the Russia-Ukraine conflict has had a significant impact on the availability and price of food in those regions."
And a direct land war isn't the only security threat to food production.
"Natural disasters, drought, climate change or even cyberattacks are all factors that would significantly disrupt food production at a regional scale," she explained. "Technology in the agricultural sector is moving faster than the ability to defend it."
Dr. Awada is intimately familiar with the factors necessary to provide nutritious food for a nation as expansive as the U.S. For more than 20 years, she has participated in correlated transdisciplinary research for UNL — an institution known for 150 years of agricultural research expertise. Dr. Awada's research focuses include climate, vegetation cover change, invasive species, food security, digital plant science and other evolving agricultural topics.
Even during her childhood in Lebanon, Dr. Awada was interested not only in what makes things tick but all the details.
"I was really curious," she said. "I'd open toys and watches to see how they worked. I always had confidence I'd be able to put them back together, even when I failed many times."
The need to know how things work influenced her studies as well.
"In school, I liked biology, engineering and physics," she said. "Bioengineering brings all of those together. But I wasn't sure what I wanted to specialize in until I took a class in plant ecophysiology. I took an undergrad course in Lebanon and a more elaborate master's course in Greece."
She became increasingly fascinated with the study of how plants interact with their environments, why certain plants persist in some geographic areas and not in others and factors allowing specific species to thrive in specific locales. She selected plant ecophysiology as the focus of her thesis and later her doctorate.
Throughout her early work, Dr. Awada gained experience working in many different biomes. However, it was Nebraska's distinctive sandhills biome that brought her to IANR.
"When I was working in Canada, my husband and I had the opportunity to come here, and I was very excited by the sandhills," she said.
Recently, Dr. Awada has co-led a partnership between NSRI and IANR to assist with the development of a new focus area within NSRI's research portfolio — food, agriculture and environment security. The depth of her plant ecophysiology expertise and study of global ecosystems was essential to her role, as was her understanding of UNL's capabilities and talents. She found that the NSRI work differs from what she is used to and this has provided opportunities to yet again expand her skills.
Overview video from recent workshop with NU faculty to launch NSRI food, agriculture and environment focus area.
"My own research is always curiosity-based," she said. "We're always looking at the outcome of research and then developing our next questions. Work with NSRI has been very action-driven. We have specific tasks based on problems that need to be solved. We do some of this in academic research, but not at the same speed."
A great deal of work goes into organizing an initiative like the new NSRI focus area, Dr. Awada explained, and it has further deepened her love for and curiosity of her discipline and field of study.
"All of this — it doesn't feel like a job for me," she said. "I continue to enjoy doing research, mentoring students and launching new initiatives. Every discovery leads to another question, and I just can't seem to stop."
As agriculture moves increasingly into the digital age, climate and food security are taking center stage as critical considerations in everything from water scarcity to modern warfare.
Threats to ecosystems and food production may be on the rise, but brilliant minds like Dr. Awada's are doing the work to best ensure the agricultural, food and environmental safety of Americans.

"The leadership provided by Dr. Awada and IANR has been and will continue to be essential to bringing this research focus area to fruition," said Maj. Gen., USAF (Ret.) Rick Evans. "We are grateful for her creative vision, unique perspective, deep expertise and enthusiasm to invite colleagues from across the University of Nebraska System into the fold. When you're stepping into new territory like this, attacking a new and important national security mission, you need someone exactly like Dr. Awada — an expert who is curious, innovative, passionate and energetic."
###
About the National Strategic Research Institute
Through the National Strategic Research Institute at the University of Nebraska leading scientists deliver innovative national security research, technology, product and strategy development, training and exercises, and subject matter expertise to the Department of Defense and other federal agencies. One of only 15 DOD-designated University Affiliated Research Centers in the country, NSRI is sponsored by U.S. Strategic Command and works to ensure the United States' safety and preparedness against increasingly sophisticated threats. Read about our mission.