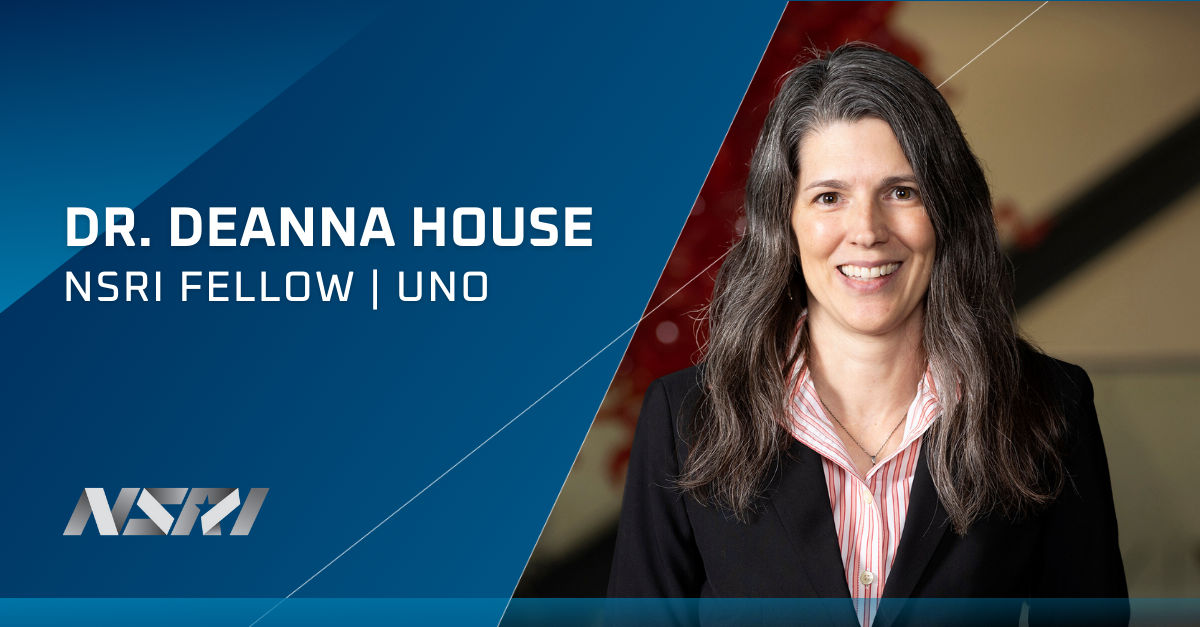 Meet Dr. Deanna House
NSRI Fellow Dr. Deanna House is an assistant professor in information systems quantitative analysis department at the University of Nebraska at Omaha (UNO). Dr. House teaches graduate and undergraduate courses in cybersecurity, information assurance and management information systems. Prior to working in academic, Dr. House worked in human resources as a business systems analyst.

Her research interests are related to the behavioral aspects of cybersecurity and the protective and preventative measures performed by users and organizations both private and public sector. Dr. House speaks at the regional and national level on topics related to risk management in addition to the intersection of technology and ethics.
Q&A
Why are you interested in supporting national security?
When I consider my overall research agenda, there is no greater impact than securing our nation. Understanding and helping solve problems that are faced by the U.S. and its allies related to risk, deterrence and decision making has given me an opportunity to expand my knowledge set, collaborate with other disciplines and broaden the audience where my research is disseminated.
How have you supported national security through your research?
NSRI Fellow Dr. Michelle Black, UNO associate professor of political science, brought me in to contribute to the project, "Multi-Actor Deterrence and Analysis Methodology (MADAM)," with NSRI Fellows Dr. Lana Obradovic, Dr. Tyler White and Elsbeth Magilton. I am the technical leg of the team and facilitate automation of the analysis and ensure that we are finding innovative ways to improve our processes and advance the analysis mechanisms.
I also work with the National Security Innovation Network to facilitate experiential and service-learning projects with graduate students focused on management information systems, during which we work on Department of Defense projects. My students and I gain advanced-level insights related to DOD problems and technological challenges such as automation, artificial intelligence, agile/DevSecOps, cybersecurity, communication resiliency and many others. To date and still ongoing, I have mentored students on 26 projects.
What national security challenges can your expertise help solves?
My research focuses on behavioral cybersecurity and quantitative risk analysis. Having appropriate processes and technology in place that facilitate quick and accurate decision-making is extremely important from a national security perspective. Understanding the decision calculi of various actors can provide additional insight to gain advanced decision-making capabilities.
I worked in the industry as a business analyst before working in academia, which allows me to manage projects and dive deep to think about how problems can be solved utilizing technology. On the cybersecurity and risk side, my research provides me with the foundational knowledge to understand gaps and challenges faced by private sectors, public sectors and DOD and think about ways to bring in my expertise to approach those challenges creatively and effectively.
What do you see coming in the next five or 10 years that you think is important for national security leaders to consider?
Cybersecurity attacks will continue to impact the world. Typically, these attacks start with a human, which is what my research explores. Accurate and timely decision making and analysis will provide a distinct advantage. Utilizing artificial intelligence and automation to facilitate decision making will be necessary to stay viable and relevant. Determining mechanisms for reducing the impact of risk is also of the utmost importance.
What are you working on right now that excites you and why?
I am co-director with Dr. Black on the work in the Nebraska Deterrence Lab, related to multi-actor deterrence and multi-actor risk. "Multi-Actor Risk Analysis Methodology (MARAM)," was recently funded for 2023-2025, with me serving as the primary investigator and Drs. Black, Obradovic, White as well as Magilton as Co-PIs. MARAM will use research-grounded methodologies to formulate an innovative mechanism to expand existing quantitative risk methodologies into a multi-actor domain. The funding for these projects allows us to bring students into our lab and our research, which creates a pipeline for the future workforce. My projects are exciting, but working on a multi-disciplinary team is one of my research's most impactful and rewarding aspects.
Learn more about Dr. House at unomaha.edu and more about her work at nomaha.edu/nebraska-deterrence-lab/research.
###
About the National Strategic Research Institute
Through the National Strategic Research Institute at the University of Nebraska leading scientists deliver innovative national security research, technology, product and strategy development, training and exercises, and subject matter expertise to the Department of Defense and other federal agencies. One of only 15 DOD-designated University Affiliated Research Centers in the country, NSRI is sponsored by U.S. Strategic Command and works to ensure the United States' safety and preparedness against increasingly sophisticated threats. Read about our mission.