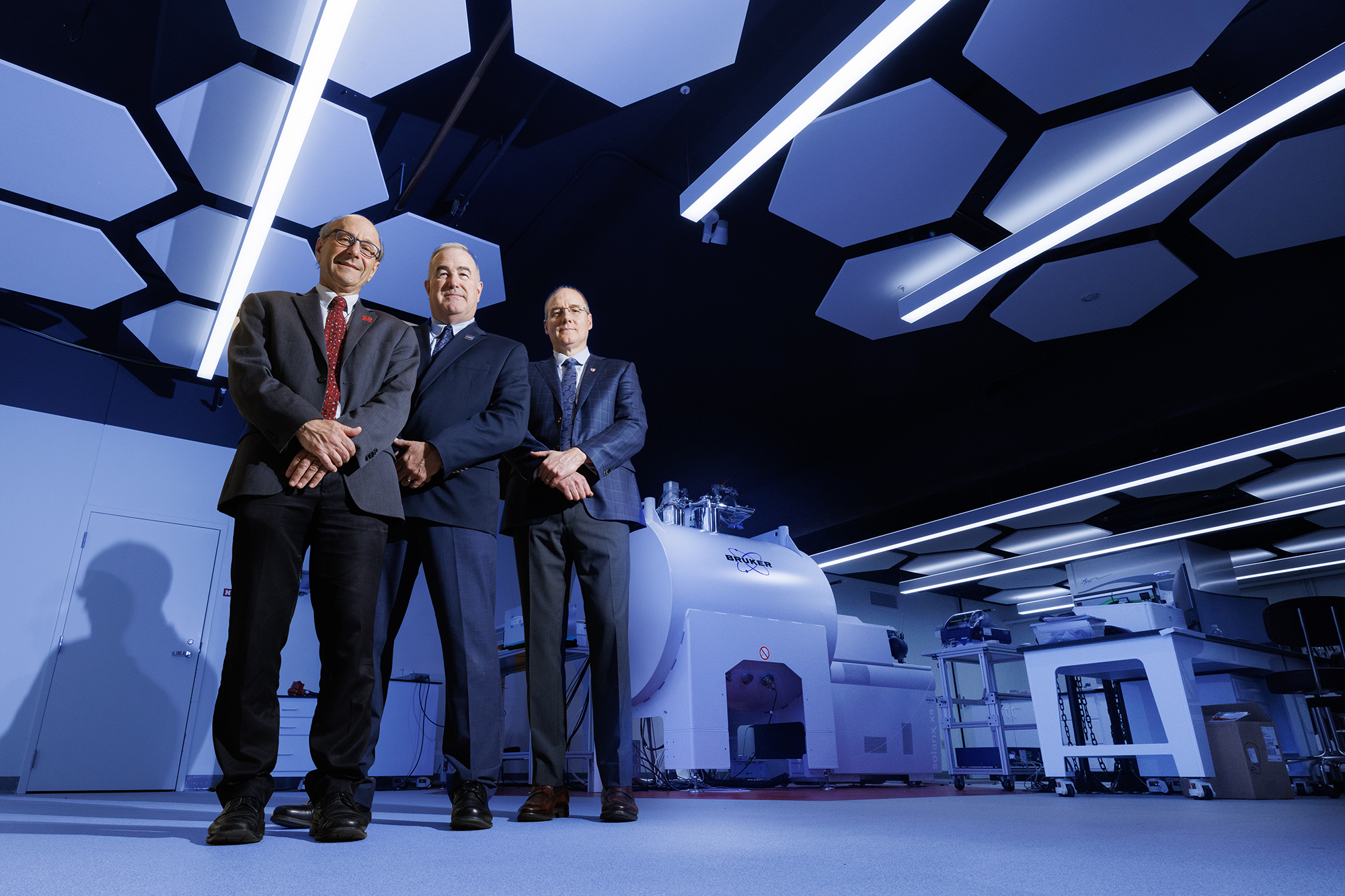 Researchers from the University of Nebraska–Lincoln (UNL) and University of Nebraska Medical Center (UNMC), with guidance and administration from the National Strategic Research Institute (NSRI), are advancing development of a first-of-its-kind prophylactic to help protect U.S. troops from the effects of acute radiation syndrome (ARS). ARS is caused by exposure to high levels of radiation, which could result from a dirty bomb terrorist attack, nuclear accident or nuclear weapons incident.
To launch the next steps of this important work, the Defense Health Agency (DHA) has awarded a $24.5 million contract to NSRI, the Department of Defense University Affiliated Research Center of U.S. Strategic Command and the University of Nebraska system (NU). This is the third DHA contract for this work and brings the project to more than $35 million in funding since 2017. The contract also is the highest single-project award in NSRI's history.
Having made substantial progress toward completing the initial pharmacokinetic and pharmacodynamic testing on multiple candidate compounds, the research team will continue testing candidate compounds and gathering data for evaluation and approval for use by the Food and Drug Administration (FDA).
"We are looking at both prevention and mitigation strategies, and they are not necessarily the same agents," said Dr. David Berkowitz, co-principal investigator and Willa Cather Professor of chemistry at UNL, who also currently leads the Division of Chemistry at the National Science Foundation. "It is really a challenging space scientifically, but I think that is why our team has been so successful — we have passion for the purpose of this work. We bring a truly interdisciplinary approach to the science, leveraging the power of the UNL and UNMC collaboration."
A key military partner for the project is the Armed Forces Radiobiology Research Institute. NU contributors and their roles include:
Dr. Yashpal Chhonker, UNMC research assistant professor, pharmacokinetics and pharmacodynamics co-lead
Dr. Patrick Dussualt, UNL Charles Bessey professor, medicinal chemistry lead
Dr. Chittibabu Guda, UNMC professor and chief bioinformatics and research computing officer, transcriptomics lead
Dr. Tomas Helikar, UNL Susan J. Rosowski professor, biochemistry and systems biology lead
Dr. DJ Murry, UNMC professor, pharmacokinetics and pharmacodynamics co-lead
Dr. Rebecca Oberley-Deegan, UNMC professor, in vivo efficacy lead
Dr. Massimiliano Pierobon, UNL associate professor, data analysis and simulation lead
Dr. Robert Powers, UNL Charles Bessey professor and director of the NCIBC systems biology core, metabolomics lead
The researchers are leveraging several NU facilities and technologies and have provided real-world experiences to undergraduate and graduate students. They also have published several papers regarding their work, including:
This project also activated a higher-level strategy for NU that is now in full gear — the Nebraska Drug Discovery and Development Pipeline, or "ND3P." Connecting the drug discovery and development expertise, capabilities, facilities and technologies from all four NU campuses, ND3P helps the DOD explore, innovate and pursue essential but rarely used therapeutics that would not otherwise be pursued due to low profitability. More than 77 researchers are listed in the network, which is supported by a steering committee of industry and academic leaders.
"The ARS project is a cornerstone of the ND3P," said Dr. Ken Bayles, co-principal investigator and UNMC vice chancellor for research. "It has demonstrated our capability to take specific chemical entities from the conceptual phase to pre-investigational new drug status and, ultimately, to the FDA. It provides proof-of-concept that the ND3P can be leveraged to carry important drug candidates across the 'valley of death,' therefore, serving as an alternate path toward FDA approval."
As a DOD UARC, NSRI and NU are considered trusted agents of the DOD and Federal government. Leading capabilities and unique qualifications such as comprehensive knowledge of DOD requirements, quick response capacity and current operational experience allow leaders and scientists to create deep partnerships that mature and deliver — just like the ARS prophylactic, said Maj, Gen., USAF (Ret.) Rick Evans, NSRI executive director.
"The reality is that current events and history demonstrate the need to always be ready, even in the case of radiation exposure," Evans said. "For those who have volunteered to protect our nation, we are obligated to help them be as prepared as possible, and that is the ultimate intent of this project, and the ultimate purpose of our institute — to keep our warfighters safe."
NU President Ted Carter, chairman of the NSRI board of directors, and Dr. Jeffrey P. Gold, provost of the University of Nebraska System, congratulated all involved.
Carter said: "This is a tremendous accomplishment for the University of Nebraska and our faculty. Not only is this contract a signal of Nebraska's leadership role in doing research that keeps our nation and warfighters safe, but it's a powerful statement of what is possible when we work together."
Gold said: "This is an example of the national impact that is possible when the University of Nebraska System's top investigators collaborate across the individual institutions."
###
About the National Strategic Research Institute
Through the National Strategic Research Institute at the University of Nebraska leading scientists deliver innovative national security research, technology, product and strategy development, training and exercises, and subject matter expertise to the Department of Defense and other federal agencies. One of only 15 DOD-designated University Affiliated Research Centers in the country, NSRI is sponsored by U.S. Strategic Command and works to ensure the United States' safety and preparedness against increasingly sophisticated threats. Read about our mission.