"What assumptions did you consider in your exercise scenario?"
This was the first of a series of questions Brigadier General William Murphy, mobilization assistant to the commander of United States Strategic Command (USSTRATCOM), posed to the nine undergraduate and graduate students sitting in front of him recently at USSTRATCOM headquarters, Offutt Air Force Base, Nebraska.
Ethan Czapla, a senior political science and history major at the University of Nebraska–Lincoln, responded promptly: "We thoroughly researched each country within our scenario so we could understand their capabilities now and anticipate capabilities in the future to make our tabletop exercise as realistic as possible."
Discussion ensued.
"The world today presents a unique set of deterrence challenges. Strategic deterrence is not a static concept, and research must take into account a wider array of variables than in years past," Murphy said. "I am appreciative of the work NRSI does for strategic deterrence and our national security. The research these young professionals presented is setting the stage for the future of deterrence. We are taking their novel thoughts, concepts and work and implementing them into our discussions and future plans. We need people like these future leaders in our Strategic Command enterprise."
Briefing Murphy for 30 minutes about their projects was the culminating experience for the interns who had worked for 10 weeks to not only learn and understand critical parts of the command's mission, but to deliver products that could move forward in development.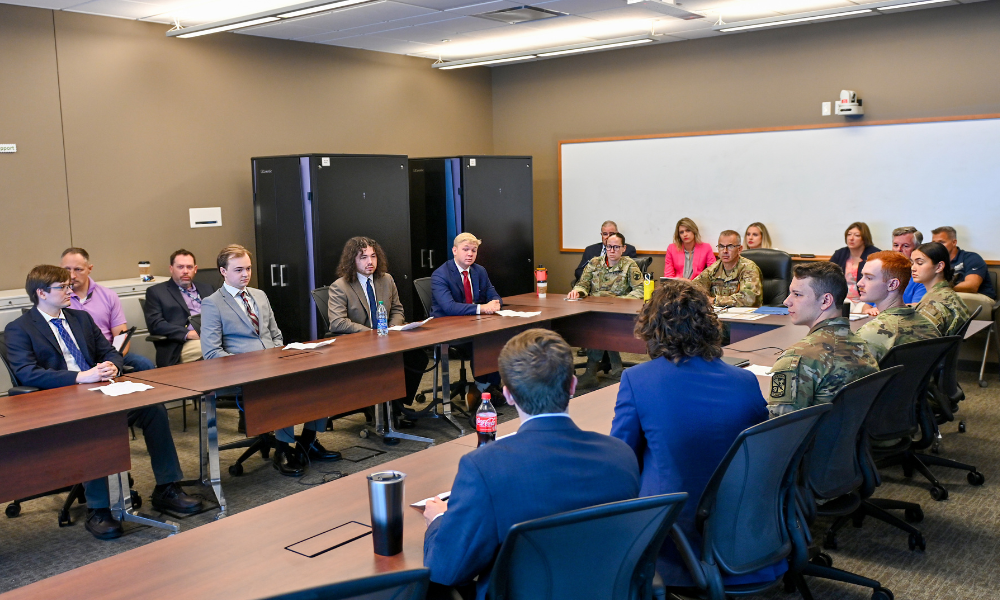 "I've learned that deterrence is a psychological game more than anything — it's an extraordinarily dynamic and complex art that is becoming increasingly difficult in the global landscape," said Grace Sandretti, a junior international studies and global security major and Army ROTC at the University of Wisconsin-Madison. "I've also learned there is a great misconception about what USSTRATCOM aims to accomplish. Peace and deterrence are their main goals, and USSTRATCOM is truly a cornerstone of U.S. national security."
Working in two cohorts, the interns completed two research efforts that benefit USSTRATCOM interests.
Cohort 1 researched the implications of leveraged resource employment in military planning systems using graph databases in support of Air Force Life Cycle Management Center (AFLCMC) interests.
Using Neo4J graph database software, the interns modeled resource distribution in a scenario of multiple natural disasters over an expansive area where the individual disasters created complex logistical challenges. They considered types of disasters, types of equipment, FEMA zones, personnel, supplies and vehicles.
Through their database model, the interns were able to determine equipment proximity to zones, better visualize equipment location and mobilization, and create useful visuals when viewing different situations over the course of a 5-day scenario.
"I have learned about all the ways technology is integrated into our strategic deterrence, and how strategic deterrence extends so much further than just nuclear weapons, especially in the cyberspace," said Max Sievenpiper, sophomore supply chain management and computer science major at the University of Nebraska–Lincoln. "This experience has helped me discover the possibilities of working alongside the DOD in the tech sphere, including with government contractors. I have also narrowed my focus in my major — towards backend and database development."