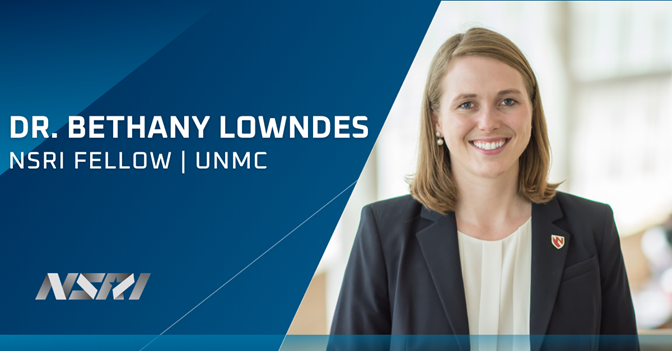 Meet Dr. Bethany Lowndes
Dr. Bethany Lowndes, assistant professor in the department of neurological sciences at the University of Nebraska Medical Center, studies and designs systems to improve the interactions between healthcare providers, patients, caregivers and technology in order to advance health across different levels of care.
Dr. Lowndes is specifically interested in a systems approach to studying how technology enables or hinders communication, task completion or positive health behaviors that play a key role in healthcare delivery and quality of life. Her research is conducted through qualitative and quantitative methods including observation, surveys, human performance measurement and task analysis. She specifically identifies user needs and assesses usability to ensure sound design of equipment for healthcare delivery. She has worked on teams to address combat casualty care and emergency management training for tourniquet application.
Q&A
Why are you interested in supporting national security?
As a human factors engineer, I work to design systems to support people and enable them to complete work safely and efficiently. Military personnel are often working in high-stress and extreme conditions. These individuals deserve tailored processes and equipment to accommodate the conditions under which they are working. I am driven to support efforts to design for military users especially when they themselves are the patient and in need of care. Through military health research, I am able to ensure that we not only protect those who are protecting our country but also ensure safe and effective care if they are injured or become ill.
Share some of your deliverables to this point.
Prior to becoming an NSRI Fellow, I conducted military health research including usability, design and user assessment for combat care tasks and equipment. This has included airway management and bleeding control. Equipment used in austere environments or less-than-ideal conditions makes tasks more difficult to complete. Through the redesign of healthcare equipment, we are able to support military clinician users in safely caring for patients. Additionally, these techniques can assist civilians in first response and potential support efforts by the military to respond to national disasters.
Read some of Dr. Lowndes' work:
What national security challenges do you think you could offer your expertise to solve?
Regarding the response to national disasters and the risk of future pandemics, my expertise in human factors can lead to the design of intuitive equipment and just-in-time instruction that will ensure efficiency for military first responders and could enable untrained civilians to participate in the response. Especially when patient care needs to reach surge capacity, resources are very limited. Efficiency at this point is required for our military health professionals.
How do you think your area of expertise can contribute to national security challenges?
Through user-centered design, we can work to ensure that processes and systems support users through the completion of their work. By applying human factors principles, we can make sure that the design anticipates human behaviors, supports the humans to take the correct action and optimizes their involvement while offloading a high workload that can be more safely or effectively completed through automation.
What are you working on right now that excites you and why?
Currently, I am working on a usability and design project related to personal protective equipment (PPE) design and respiratory protection. Throughout the pandemic, the need for improved PPE became even more evident. While we had so many working diligently to fit test and train individuals on how to properly use respiratory PPE, this process had many failure points and barriers. Users experienced skin injuries, contamination and often chose to resort to less-than-ideal PPE because the current designs were not facilitating their clinical care. If a healthcare professional cannot communicate with colleagues or properly see what they are doing, they are not going to be able to continue using the PPE and achieve the desired care outcomes.
This work with NSRI Fellow Dr. Elizabeth Beam, associate professor and HEROES program director for the UNMC College of Nursing, is a very exciting opportunity to meet the needs of end users through an innovative design. With the support of NSRI, we have a prototype and are working to refine the design to ensure user protection and satisfaction in the field. This device will help ensure that our military health professionals are protected when caring for infectious disease patients.
Learn more about Dr. Lowndes via her UNMC bio.
###
About the National Strategic Research Institute
Through the National Strategic Research Institute at the University of Nebraska leading scientists deliver innovative national security research, technology, product and strategy development, training and exercises, and subject matter expertise to the Department of Defense and other federal agencies. One of only 15 DOD-designated University Affiliated Research Centers in the country, NSRI is sponsored by U.S. Strategic Command and works to ensure the United States' safety and preparedness against increasingly sophisticated threats. Read about our mission.