Misty Bensman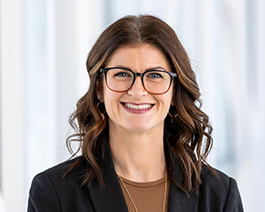 Director, Program Operations
Chemical & Biological Defense Programs
Misty Bensman is the Director for Program Operations at the National Strategic Research Institute at the National Strategic Research Institute at the University of Nebraska, the DOD-designated University Affiliated Research Center sponsored by U.S. Strategic Command.
As director of program operations for chemical and biological defense (CBD) program, Bensman is responsible for the management of the CBD portfolio as well as strategic business development and identification of resources in support of CBD for the U.S. Government.
Preceding her appointment to director, Bensman was a NSRI senior scientist from 2018 through 2022. During this time she served as principal investigator on multiple CBRNE-related programs for the Department of Defense and the intelligence community. Bensman also served as program manager for the NSRI CBD portfolio supporting multiple DOD and intelligence community contracts.
Prior to joining NSRI Bensman was a lead scientist for the Chemical, Biological, Radiological Concepts and Experimentation Branch at Naval Surface Warfare Center, Dahlgren Division (NSWCDD) from 2011 through 2018. In this role she was responsible for leading multiple DOD projects focused on biological agent defeat and decontamination. She also authored numerous technical reports and publications. From 2008 through 2011, Bensman was a scientist in the Special Technology Integration Branch at NSWCDD where she served as the lead test engineer on asymmetric warfare programs and a procurement and contracts specialist for the branch.
During her career at NSWCDD, Bensman received the Dahlgren Honorary Award of Merit for Group Achievement, the Warfare Center Excellence Award for Collaboration and a Letter of Appreciation for support in STEM activities from the Captain of NSWCDD.
Bensman has obtained multiple certifications throughout her career including:
DAWIA Level 3 Systems Planning, Research, Development, and Engineering-Systems Engineer
Level 1 Science and Technology Manager through Defense Acquisition University
Contracting Officer's Representative (COR) Certification through Atlantic Management Center, Inc.
She holds a master's degree in biotechnology from Johns Hopkins University and a bachelor's degrees in biology and exercise science from Shippensburg University of Pennsylvania.
COOKIE USAGE:
The University of Nebraska System uses cookies to give you the best online experience. By clicking "I Agree" and/or continuing to use this website without adjusting your browser settings, you accept the use of cookies.