Richard Evans, USAF, Maj. Gen. (Ret.)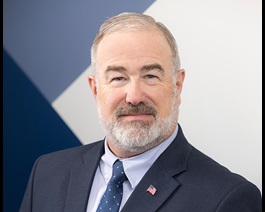 Deputy Executive Director
Maj. Gen. (Ret.) Richard J. Evans III is Deputy Executive Director of the National Strategic Research Institute at the University of Nebraska.
Immediately prior to his current role, he served as the Director of Reserve Forces and Mobilization Assistant to the Commander, U.S. Strategic Command, Offutt Air Force Base, Nebraska. He was the principal advisor to the Commander on reserve component matters related to the command's diverse missions, including:
Strategic deterrence and assurance
Nuclear operations
Nuclear command, control and communications
Space and cyberspace operations
Full-spectrum global strike
Integrated missile defense
Joint electromagnetic spectrum operations
Joint warfare analysis
Evans received his commission in 1984 as a distinguished graduate of the Air National Guard Academy of Military Science. He has commanded at the detachment, squadron, group and wing levels. His operational flying assignments include instructor weapon systems officer in the RF-4; and instructor and evaluator navigator in the KC-135 Stratotanker.
His staff assignments include:
Wing-level operations, plans, tactics and personnel assignments
Special Assistant to the Director, Air National Guard for the Quadrennial Defense Review 2010
Acting Director for Space and Information Superiority at the National Guard Bureau
National Reconnaissance Office Liaison Officer to U.S. Strategic Command
Evans also served as Chair of the Air National Guard's KC-135 and Space, Intelligence, Surveillance and Reconnaissance and Cyber Weapon System Councils and was a member of the Air Directorate Field Advisory Council from 2004-2012.
Evans has commanded expeditionary forces and flown combat missions in the KC-135 supporting operations Uphold Democracy, Decisive Endeavor, Deliberate Guard, Deliberate Forge, Allied Force, Southern Watch, Northern Watch, Noble Eagle, Enduring Freedom and Iraqi Freedom. He also served as Director of Mobility Forces for NATO Operation Unified Protector. He is a graduate of the U.S. Air Force Fighter Weapons School and master navigator with over 4,000 flying hours, including 153 combat/combat support hours. He has also completed over 100 operational missions as an Airborne Emergency Actions Officer leading the Battle Staff on the U.S. Strategic Command E-6B Airborne Command Post.
Evans is an Omaha native, graduating from Omaha Northwest High School and the University of Nebraska at Omaha in 1984.
COOKIE USAGE:
The University of Nebraska uses cookies to give you the best online experience. By clicking "I Agree" and/or continuing to use this website without adjusting your browser settings, you accept the use of cookies.