Robert Hinson, USAF, Lt. Gen. (Ret.)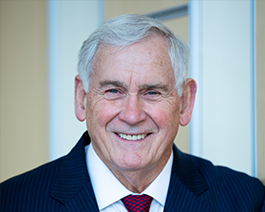 Founding Executive Director
Lt. Gen. (Ret.) Robert C. Hinson served as the founding executive director of the National Strategic Research Institute at the University of Nebraska from 2012 - 2020.
Hinson launched NSRI as the University Affiliated Research Center (UARC), designated by the Department of Defense, in 2012. NSRI is sponsored by United States Strategic Command and focuses specifically on research in pursuit of strategic, decisive deterrence and defense. NSRI is one of only 14 DoD-designated UARCs in the country.
Under Hinson's leadership, NSRI has received more than $298 million through more than 110 contract awards. More than 100 NU faculty and students in multiple disciplines across the university system worked on the projects through the institute.
Hinson joined NSRI after serving for nine years as vice president of government programs and corporate lead executive at Northrop Grumman. Before joining Northrop Grumman, Hinson served 33 years in the U.S. Air Force, retiring at the rank of Lieutenant General in September 2003.
Prior to his retirement, he was Vice Commander of Air Force Space Command at Peterson Air Force Base in Colorado Springs, Colo. and Deputy Commander of U.S. Strategic Command, Offutt Air Force Base, Nebraska. Hinson is a command pilot with more than 3,000 flying hours, primarily in B-52, FB-111 and B-1 bomber aircraft. He received numerous awards and decorations during his military career.
Hinson received a bachelor's degree from the University of Tennessee and a master's degree from Arkansas State University. He also completed the Program for Senior Officials in National Security at Harvard University's John F. Kennedy School of Government. He serves on the board of directors for several organizations, including the STRATCOM Consultation Committee (SCC); the STRATCOM Strategic Advisory Group's Bomber Task Force Panel; and the SAC Air and Space Museum.
Connect With NSRI
As the DOD-designated University Affiliated Research Center (UARC) of U.S. Strategic Command and the University of Nebraska System, the National Strategic Research Institute (NSRI) delivers solutions for strategic deterrence and CWMD mission requirements gaps. Our rapid-response capabilities and efficient contracting vehicle can help federal government program managers meet critical research and development needs. Connect with us to learn more.
Get Started
COOKIE USAGE:
The University of Nebraska System uses cookies to give you the best online experience. By clicking "I Agree" and/or continuing to use this website without adjusting your browser settings, you accept the use of cookies.