Thomas Mueller, Ph.D.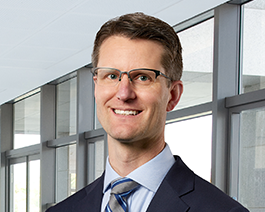 Research Director
Chemical Defense Programs
Dr. Thomas Mueller is the Research Director for Chemical Defense Programs at the National Strategic Research Institute at the University of Nebraska, the DOD-designated University Affiliated Research Center sponsored by U.S. Strategic Command.
Dr. Mueller started his career at the Johns Hopkins University Applied Physics Laboratory (JHU/APL) where he supported countering weapons of mass destruction and homemade explosive efforts for the Department of Defense (DoD) and Other Government Agencies (OGA). His efforts focused on:
Identification and pilot plant production of emerging threat simulants

RDT&E of novel chemical warfare agent (CWA) defeat technologies

Evaluation of homemade explosive production pathways
After his tenure at JHU/APL, Dr. Mueller managed the Battelle Memorial Institute Hazardous Materials Research Center where he focused on test and evaluation of personal protective equipment from CWA threats and led research and development efforts for wide area decontamination of CWA for the Joint Program Executive Office. While at Battelle, Dr. Mueller also supported efforts for Bluegrass and Pueblo Chemical Agent Destruction Pilot Plants.

As the Director of Chemical Defense at NSRI, Dr. Mueller focuses on the development and execution of CWMD efforts for the DoD and OGA.

Dr. Mueller received a doctorate in chemistry from the University of California, Irvine, focused on synthetic chemistry of lanthanide, actinide and transition metal organometallic compounds. He received his bachelor's degree in chemistry from the University of Wisconsin-Madison.

COOKIE USAGE:
The University of Nebraska System uses cookies to give you the best online experience. By clicking "I Agree" and/or continuing to use this website without adjusting your browser settings, you accept the use of cookies.