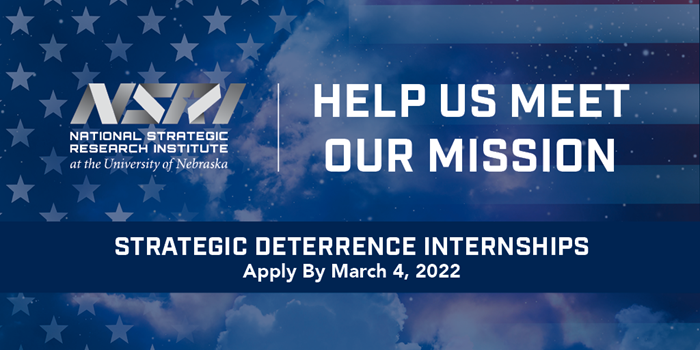 Are you a high-achieving undergraduate or graduate student? Are you interested in diving deeply into the complexities of national security? Do you have career aspirations in or in support of our U.S. defense?
If you answered, "yes," to any of these questions, the strategic deterrence internship program through the National Strategic Research Institute (NSRI) at the University of Nebraska could be a great fit!
NSRI is currently hiring six paid interns for summer 2022. The application and details are available at nsri.nebraska.edu/deterrenceinterns. The deadline to apply is March 4, 2022.
The selected interns will work full-time for NSRI for 10 weeks from June 1 to August 5, 2022. They will form two teams to explore strategy development through Game Theory and technical research for electromagnetic spectrum operations (EMSO) — both significant areas of mission for U.S. Strategic Command, NSRI's sponsor.
Throughout the experience, the interns will have access to NSRI experts with deep military and government experiences and receive mentoring and professional development from active USSTRATCOM personnel and University of Nebraska (NU) professors. Five ROTC cadets will also be part of the program, providing an opportunity for all eleven interns to have a joint operations experience.
"Students who have participated in this program throughout the last several years have improved their technical capabilities, added impressive experience to their resumes and received career guidance and advice from some incredible military and civilian national security leaders," said Traci Hancock, NSRI deputy director of strategic engagement and innovation. "NSRI is so proud of what this program provides to students and IS pleased to offer the opportunity again this year."
Last year's interns transformed NSRI's limited nuclear conflict wargame into a virtual experience and presented the outcomes of their efforts to leaders at U.S. Strategic Command, including Deputy Commander Thomas Bussiere. The NU students also worked side-by-side with ROTC cadets from around the country, creating a true joint civilian-DOD dynamic.
This year's interns will develop a research concept, construct experimental designs, conduct test planning and execution, present findings in the form of briefings and technical papers to NSRI leaders and current or potential NSRI customers, and so much more.
Students and recent graduates from all fields are encouraged to apply. This includes but is not limited to:
Political science
International relations
Data science
Computer science
Electrical engineering
Computer engineering
Telecommunications
Mathematics
Statistics
Cyber security/cyber assurance
"This experience has influenced my future education and career path greatly," said Grace Farson, 2021 intern and mathematics major at the University of Nebraska–Lincoln. "NSRI has helped not only educate me on various national security topics but provided me with connections and experiences that have enhanced my knowledge base and led me to finding my future career path."
###
About the National Strategic Research Institute
Through the National Strategic Research Institute at the University of Nebraska leading scientists deliver innovative national security research, technology, product and strategy development, training and exercises, and subject matter expertise to the Department of Defense and other federal agencies. One of only 14 DOD-designated University Affiliated Research Centers in the country, NSRI is sponsored by U.S. Strategic Command and works to ensure the United States' safety and preparedness against increasingly sophisticated threats. Read about our mission.