The National Strategic Research Institute (NSRI) at the University of Nebraska recently hosted an interagency workshop at its National Capital Region (NCR) Laboratory & Conference Center to connect stakeholders from the Department of Defense (DOD) and Department of Homeland Security (DHS) who are working to accelerate the development of next-generation bio-detection capabilities to prepare for emerging threats.
The purpose of the workshop was to connect DOD and DHS stakeholders to identify areas for collaboration focused on the development of biological detection and identification technologies.
This workshop provided a forum for government stakeholders, end-users and first responder communities to discuss use cases and efforts aimed at development of next generation sequencing.
"NSRI is pleased to facilitate opportunities that bring our stakeholders together to discuss shared mission priorities," said Dr. Neal Woollen, NSRI associate executive director for CWMD allied programs. "This is just one example of how NSRI can convene leaders and subject matter experts in a collaborative workspace to discuss national security priorities with actionable outcomes."
Located approximately five miles from Fort Meade, 20 miles from the Pentagon and 30 miles from the Defense Threat Reduction Agency headquarters, the NSRI NCR Laboratory and Conference Center offers a convenient location for national security collaborators to host important meetings. It also boasts leading technology that allows for University of Nebraska researchers and others to easily join in-person events.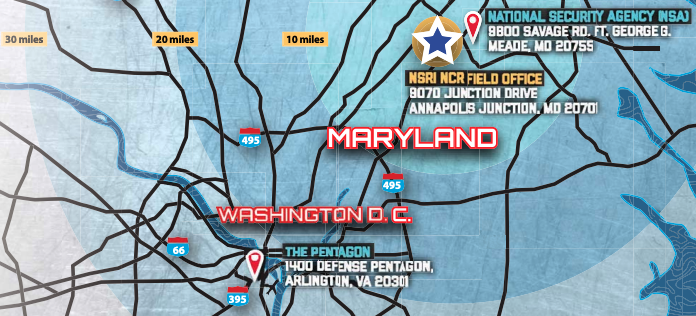 Multiple meeting rooms provide space for closed-door discussions, and a 4,300-square-foot warehouse is often used for scenario-based exercises, table-tops, workgroup discussions, laboratory trainings and programs and technology reviews and demonstrations.
The facility was established in 2016 through investments by the University of Nebraska System, which was designated by the DOD as a University Affiliated Research Center in 2012. NSRI carries this designation for the university, serving as a non-profit trusted agent to the federal government.
Other NSRI research facilities include the Fredericksburg Field Office & Laboratory in Fredericksburg, Va., the Space Coast Field Office in Melbourne, Fla., and the Collaborative Biosecurity Laboratory at the University of Nebraska–Lincoln in Lincoln, Neb.
More details about NSRI and the University of Nebraska research facilities are available at nsri.nebraska.edu/facilities.
###
About the National Strategic Research Institute
Through the National Strategic Research Institute at the University of Nebraska leading scientists deliver innovative national security research, technology, product and strategy development, training and exercises, and subject matter expertise to the Department of Defense and other federal agencies. One of only 14 DOD-designated University Affiliated Research Centers in the country, NSRI is sponsored by U.S. Strategic Command and works to ensure the United States' safety and preparedness against increasingly sophisticated threats. Read about our mission.