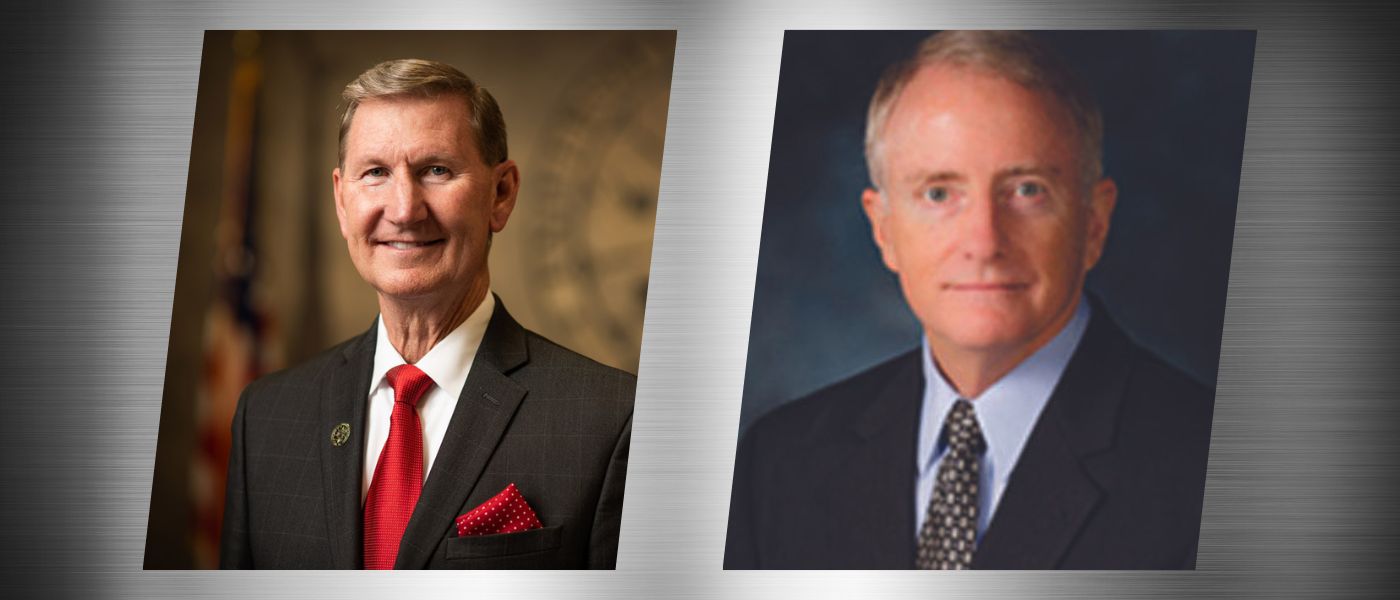 Vice Adm., Navy (Ret.) Ted Carter, president of the University of Nebraska System (NU), has been appointed to and elected chairman of the Board of Directors for the National Strategic Research Institute (NSRI) at the University of Nebraska.
Carter succeeds Vice Adm., Navy (Ret.) Carl Mauney who has served as board chairman since NSRI was established by NU and U.S. Strategic Command as a Department of Defense University Affiliated Research Center in 2012. Mauney will remain on the board as a director.
"The NSRI and NU team have together during my tenure created essential research solutions for U.S. Strategic Command and our other national security and technology customers," Mauney said. "It has been an unparalleled opportunity for me to have served as Board Chair and observe NSRI grow and develop opportunities for our student and experienced researchers as well as the NSRI staff.
"Under President Carter's leadership, I am confident that NSRI will continue to well serve our nation, U.S. Strategic Command and the state of Nebraska in these vital mission areas."
Under Mauney's leadership, NSRI secured three indefinite delivery, indefinite quantity contract vehicles from USSTRATCOM — $84 million in 2012, $92 million in 2018 and $92 million in 2020. The NSRI team has grown to more than 60 employees responding to more than 40 federal government and DOD agencies from five leading facilities across the country.
In total, nearly $217 million in contracted projects has been executed through NSRI across its research portfolio by NU and NSRI researchers and involving hundreds of NU students. Numerous mission milestones have been accomplished under Mauney's guidance. Highlights include:
Research and development for deployable warhead verification system
Chemical, biological, radiological and nuclear (CBRN) preparedness program
Limited nuclear conflict wargame development and execution
Bolstered perimeter defense network via early warning
Nebraska Drug Discovery & Development Pipeline
"The opportunity to work with Vice Admiral Mauney has been invaluable to me and to NSRI. His experience, insight and perspective are foundational to the success of the institute so far and essential to its trajectory for decades to come," said Maj. Gen., USAF (Ret.) Rick Evans, NSRI executive director. "We are very fortunate to now have the dynamic leadership of President Carter in the role of board chairman. He has been extremely active and attentive to the needs of our DOD partners, NU collaborators and growing team, and this will only enhance our capacity and capabilities to meet our mission."
As NU president since January 2020, Carter oversees a four-campus system that enrolls nearly 50,000 students. He has launched a system-wide strategic plan that focuses on student access and outcomes, workforce development, strong partnerships with the public and private sectors, and excellence in areas important to Nebraska and the world including water and agriculture, rural development, national security, and cancer and public health.
Carter came to Nebraska from his alma mater, the U.S. Naval Academy, where he was the longest continuously-serving superintendent since the Civil War. Previously, he was president of the U.S. Naval War College in Newport, Rhode Island.
Carter is a Distinguished Flying Cross recipient with 38 years of service, including 6,300 flying hours while operating from 19 different aircraft carriers and combat missions around the world. He is a graduate of the Navy Fighter Weapons School (Top Gun).
"The National Strategic Research Institute has built remarkable momentum under Vice Admiral Mauney's leadership, and I'm honored to continue where he will leave off," Carter said. "NSRI's mission to protect our warfighters has never been more urgent or complex. The University of Nebraska, thanks to the talents of faculty, students and researchers across our system, is leading the way. We are excited to continue our work and remain a trusted partner to our defense colleagues."
###
About the National Strategic Research Institute
Through the National Strategic Research Institute at the University of Nebraska leading scientists deliver innovative national security research, technology, product and strategy development, training and exercises, and subject matter expertise to the Department of Defense and other federal agencies. One of only 15 DOD-designated University Affiliated Research Centers in the country, NSRI is sponsored by U.S. Strategic Command and works to ensure the United States' safety and preparedness against increasingly sophisticated threats. Read about our mission.