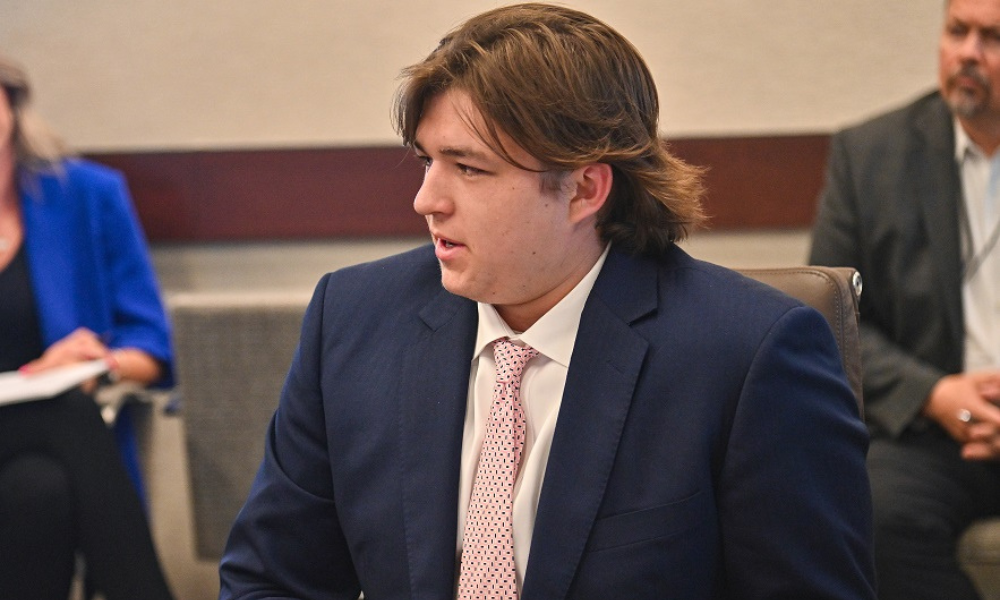 Caden Punteney, a sophomore supply chain management and computer science major in the Jeffrey S. Raikes School of Computer Science and Management at the University of Nebraska–Lincoln, recently used his skills to contribute to U.S. Strategic Command (USSTRATCOM) through an internship that focused on data science.
Caden participated in advanced artificial intelligence/machine learning (AI/ML) meetings and capability demonstrations. He built data visualization dashboards in support of the Command Data and Artificial Intelligence Center. This summer's experience built upon his previous experience as an NSRI strategic deterrence intern in summer 2022.
What is most interesting about the work you did over the last two summers?
I am able to see how the Department of Defense (DOD) is employing new technology to maintain strategic deterrence. At USSTRATCOM I was constantly reminded of the importance of the work I've been doing. Also, I really enjoyed seeing the planes taking off from the runway every day at Offutt Air Force Base.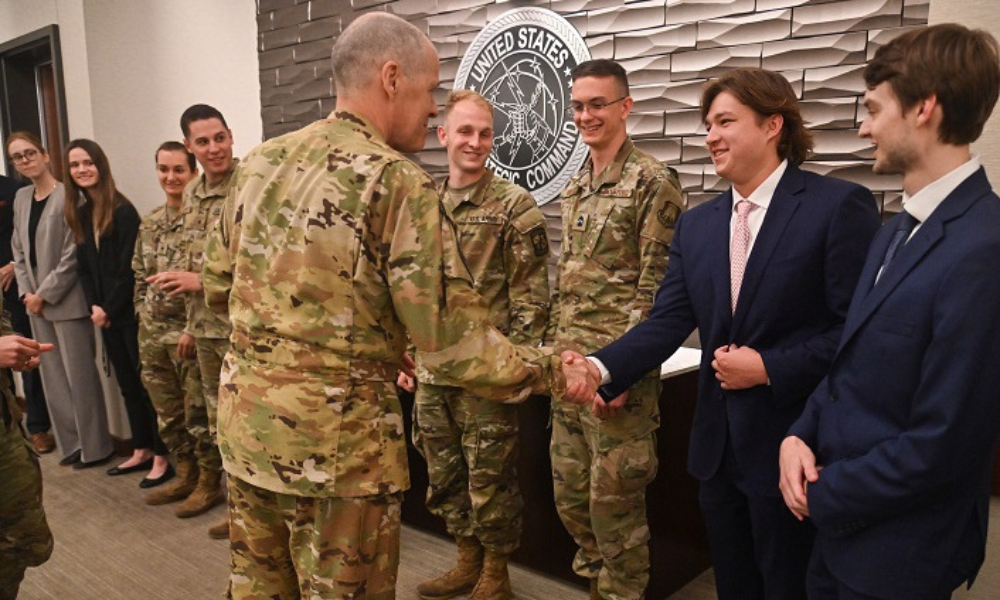 What did you learn through your work?
At NSRI, communication is absolutely the most important skill that I learned. Having the opportunity to brief high-ranking officials is incredibly rare, and it requires an entirely different skill set than presenting for a class.
At USSTRATCOM, I was able to further develop those communication skills by frequently participating in meetings. I also grew my technical skills in a variety of ways while there, one being my ability to present meaningful data in an easy-to-understand manner.
How has this work moved your education forward?
I had the opportunity to build a Data and AI Community of Interest for the Command, which provides a place for beginners and experts to learn and communicate with each other. There is no better way to learn than by doing. While reading textbooks and listening to lectures can be useful, I always find that I learn more in the ten weeks of an internship than I do over the entire school year. Whether it is communication, data science or machine learning, the last two summers have given me a plethora of learning experiences that I will take with me far into the future.
Who mentored you throughout this process and how did you grow from this mentorship?
There were a lot of people at NSRI who helped make my summer there incredible. Specifically, I would point out Chris Luther, Adam Carlstrom and Allen Geist. The three of them met with our intern group weekly to discuss our research progress and gave us advice on our brief. Our project would not have been nearly as successful without the guidance from each of them. I was able to build great connections back in 2022 that led to the opportunity to intern at USSTRATCOM this summer.
Why should other students intern with NSRI?
I can't think of another place where you are given the opportunity to brief your research to a three-star general. The experience I gained from that interaction alone was incredible. Aside from that, you can research fascinating topics and depending on the project, build models to show your findings and make recommendations for further research. Additionally, you get to work with some amazing people and make connections that will help you in the future.
###
About the National Strategic Research Institute
Through the National Strategic Research Institute at the University of Nebraska leading scientists deliver innovative national security research, technology, product and strategy development, training and exercises, and subject matter expertise to the Department of Defense and other federal agencies. One of only 15 DOD-designated University Affiliated Research Centers in the country, NSRI is sponsored by U.S. Strategic Command and works to ensure the United States' safety and preparedness against increasingly sophisticated threats. Read about our mission.