In July 2020, Dr. Christopher Yeaw, associate executive director for strategic deterrence and nuclear programs at the National Strategic Research Institute (NSRI) at the University of Nebraska, traveled to Vienna, Austria, as a senior advisor for the U.S. Department of State to support active negotiations with the Russian Federation regarding future nuclear arms control options.
The challenge for those at the enormously long negotiating table: to forge a comprehensive nuclear treaty that would truly reduce the threat of even limited nuclear war.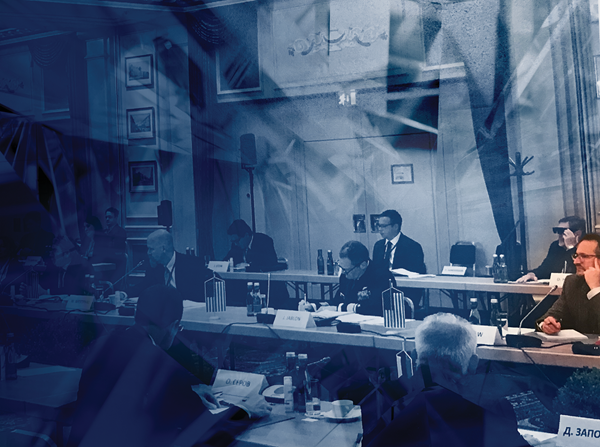 Dr. Christopher Yeaw (right), NSRI associate executive director, participating as a senior advisor with the U.S. Department of State in negotiations with the Russian Federation in July 2020 in Vienna, Austria.
On day one, a mere three hours into the debate, Dr. Yeaw delivered a carefully scripted, hour-long address to the Russian delegation.
Designed to answer nearly 40 very specific questions posed by the Russian representatives, Dr. Yeaw's speech aimed to be enlightening yet sharp. Long before Russian President Vladimir Putin unleashed war in Ukraine in 2022, he was rattling the nuclear saber. In March of 2018, he unveiled his long-developed additional nuclear capabilities, showcasing an enormous investment of resources over two decades to build a force designed to compel rivals at the theater level and, if necessary, to fight and win a limited nuclear war. A pointed response was clearly warranted.
Dr. Yeaw's speech was the culmination of several months of work for an NSRI team he led of more than a dozen senior consultants. As trusted agents to the federal government, they had provided responsive and weekly advice, recommendations and products given directly to the President's Special Envoy for Arms Control, the National Security Council and the Acting Assistant Secretary for Arms Control, Verification and Compliance.
The team's supportive efforts bolstered the negotiation process and produced substantial impact at the national and international levels. The desired treaty did not come to fruition, but the event demonstrated NSRI's ability to enhance the mission and capabilities of the U.S. government through tenacity, knowledge and agility under pressure.
###