Joshua Santarpia, Ph.D.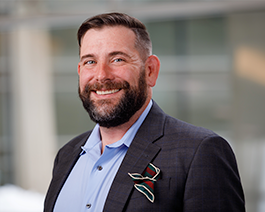 Research Director, Chem/Bio Programs
Dr. Joshua L. Santarpia is the Research Director for Chem/Bio programs at the National Strategic Research Institute.
He is also associate professor of microbiology and pathology and program director for the biodefense and health security graduate programs at the University of Nebraska Medical Center.
Dr. Santarpia has held past positions at Edgewood Chemical and Biological Center and Johns Hopkins University Applied Physics Laboratory. He was most recently a distinguished staff member at Sandia National Laboratories.
Dr. Santarpia is trained in aerosol physics, atmospheric chemistry, and microbiology. His peer reviewed research focuses largely on the fate biological aerosols in the atmosphere, detection of biological aerosols and atmospheric chemistry of biological and anthropogenic particles. He has contributed to several books on the characterization and measurement of biological aerosols in the environment.
Dr. Santarpia's work is aimed at understanding and countering threats from biological organisms, especially those that pose a threat when dispersed in aerosols. He has worked extensively on RDT&E and OT&E efforts for biological sensors for both Department of Defense and Department of Homeland Security.
Much of Dr. Santarpia's current work involves understanding the factors related to aerosol/airborne transmission of the SARS-CoV-2 virus.
Highlights of his accomplishments include:
Developed building and facility sensing networks for biological detection in numerous facilities.
Developed aerosol measurement tools, including those for unmanned aerial vehicles, for biodetection/collection activities.
Worked extensively to understand optical and other signatures that can be used to detect and identify biological aerosol and studied how those signatures change over time.
Developed novel methods to study bioaerosol hazard in medical environments, including the Containerized Biological Containment System (CBCS) for the Department of State, the Nebraska Biocontainment Unit and studies for private companies to determine potential aerosol hazards of medical devices in operating rooms.
Supported several U.S. government operational units in missions to interdict biological hazards through training, directed research and development and assessment of training, tactics and procedures for biological interdiction and disablement.
Recent Publications
Aerosol and surface contamination of SARS-CoV-2 observed in quarantine and isolation care. Joshua L. Santarpia, Danielle N. Rivera, Vicki L. Herrera, M. Jane Morwitzer, Hannah M. Creager, George W. Santarpia, Kevin K. Crown, David M. Brett-Major, Elizabeth R. Schnaubelt, M. Jana Broadhurst, James V. Lawler, St. Patrick Reid & John J. Lowe. 29 July 2020.
The Infectious Nature of Patient-Generated SARS-CoV-2 Aerosol.

,

,

,

,

,

,

,

,

,

,

,

,
Recent Presentations
COOKIE USAGE:
The University of Nebraska uses cookies to give you the best online experience. By clicking "I Agree" and/or continuing to use this website without adjusting your browser settings, you accept the use of cookies.