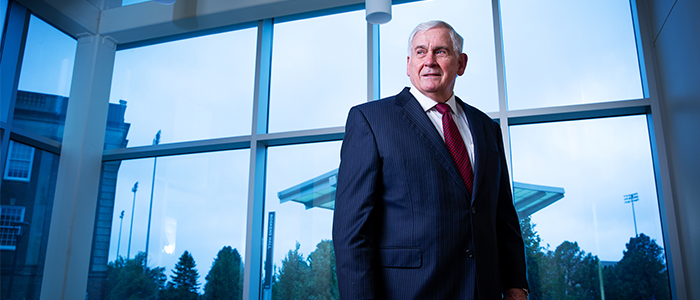 Lt. Gen. (Ret.) Robert Hinson, founding executive director of the National Strategic Research Institute (NSRI) at the University of Nebraska (NU), will retire 31 December 2020, after eight years of building the $298 million institute that has delivered national security solutions to more than 40 customers across the Department of Defense (DOD) and federal government.
Hinson, who completes a 50-year career serving in support of the DOD, will be succeeded by Maj. Gen. (Ret.) Richard Evans, NSRI deputy executive director. Evans will be interim executive director until the university completes a national search for the next permanent executive director.
"Bob Hinson built the National Strategic Research Institute from the ground up," said University of Nebraska President Ted Carter. "In eight short years, he has turned the institute from a vision into one of the nation's leading partners for defense work to keep our women and men in uniform safe.
"We are so fortunate to have attracted someone with General Hinson's talent, expertise and connections to lead NSRI through its founding years. While we will miss him, we are grateful for his service to the University of Nebraska and our entire nation, and we wish him all the best in his next chapter."
Hinson joined NSRI in August 2012 after NU competed for and won the University Affiliated Research Center designation from the Office of the Secretary of Defense. This elite designation — NU is one of just 14 institutions in the country to hold it — is sponsored by U.S. Strategic Command.
In total, USSTRATCOM has awarded three contracts to NU/NSRI — $84 million in 2012, $92 million in 2018 and $92 million in 2020. NSRI has also received an additional $30 million through other contracts and grants.
More than the financial success of the institute is the tenacious pursuit of mission Hinson has instilled in the institute's expanding team of leaders, scientists and partners. In total, the institute has more than 75 professionals working from offices and laboratories across the University of Nebraska's campuses and near customers in the national capital and space coast regions. NSRI has collaborated with more than 350 NU researchers and students and served 44 customers across the DOD and federal government.
"This has been an exceptionally rewarding and yet challenging segment of my career," Hinson said. "Thankfully, I've been surrounded by extremely professional staff, faculty and researchers who are the true backbone to any success we have achieved over these past eight plus years.
"I'm very proud of the people of NSRI who deliver more than one could expect and have paved a path to fulfill our vision for the future. That vision has always been directed at supporting those who defend and protect our freedoms and way of life every day."
Prior to his time with NSRI, Hinson served for nine years as vice president of government programs and corporate lead executive at Northrop Grumman. Before joining Northrop Grumman, he served 33 years in the U.S. Air Force, retiring at the rank of Lieutenant General in September 2003.
Prior to his USAF retirement, Hinson was Vice Commander of Air Force Space Command at Peterson Air Force Base in Colorado Springs, Colo., and Deputy Commander of U.S. Strategic Command, Offutt Air Force Base, Nebraska. Hinson is a command pilot with more than 3,000 flying hours, primarily in B-52, FB-111 and B-1 bomber aircraft. He received numerous awards and decorations during his military career.
"Over this past half century, I've had the perfect partner and the one I'm most proud of and indebted to, my wife Karen," Hinson said. "She has endured the 25 moves and long hours I've committed to work. I hope now to spend more time with her, our children and our grandchildren."
###