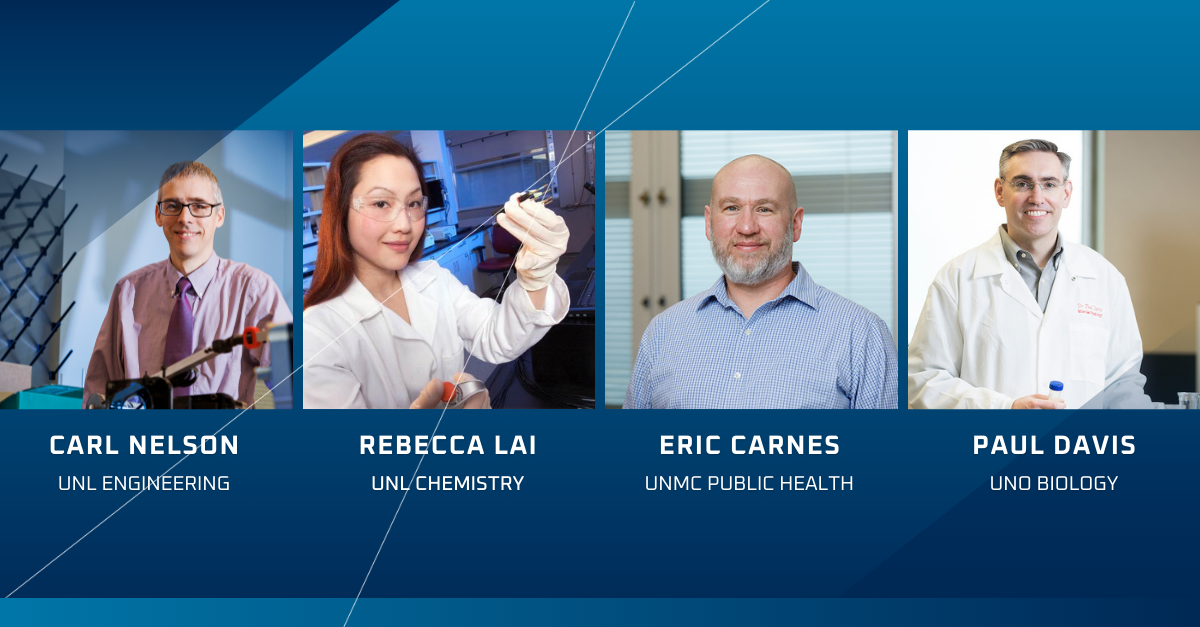 The National Strategic Research Institute at the University of Nebraska has received $5 million in incremental funding this year from the Defense Threat Reduction Agency (DTRA) to continue several projects for countering weapons of mass destruction (WMD). The original $9.6 million award was established in 2021, and NSRI has worked with DTRA since 2018.
DTRA protects national security interests in a rapidly evolving, globalized threat environment and provides solutions to WMD threats. NSRI, with researchers and students from across the University of Nebraska System (NU), will continue to provide laboratory support, capability innovation and end-user training for timely and accurate identification and mitigation of chemical and biological threats.
"Understanding of mission, delivery of innovative solutions and leveraging of NU capabilities is what has made our long-time partnership with DTRA so successful," said Marty Sikes, NSRI associate executive director for chemical and biological defense programs (CBDP). "We are honored to continue to serve our military end-users with the tools they need to keep themselves and our country safe."
NSRI scientists contributing to the projects bring forward deep expertise and field experience in the areas of aerosol biology, materials science and advanced prototyping.
Their work leverages NSRI's National Capital Region Laboratory and Conference Center in Annapolis Junction, Maryland, Field Office and Laboratory in Fredericksburg, Virginia, and Space Coast Field Office in Melbourne, Florida. These facilities are equipped with the most advanced scientific instruments and technologies available and provide convenient access for key stakeholders and end-users to get eyes on the development and provide real-time feedback.
"The new funding allows us to continue to deliver on requirements and assess gaps for DTRA," said Misty Bensman, NSRI CBDP director of program operations. "But it also provides tremendous opportunities to NU researchers and students to expand their bodies of work, create tangible impact for our military communities and see the potential career paths within national security."
As a University Affiliated Research Center (UARC) designated by the Department of Defense, NSRI serves as a trusted agent to the federal government and leverages the expertise and capabilities of the four NU campuses.
NSRI Fellow Dr. Paul Davis, professor of biology at the University of Nebraska at Omaha, and Dr. Joshua Santarpia, NSRI science and technology advisor and professor of microbiology at the University of Nebraska Medical Center (UNMC), have contributed to the projects since 2021. The new funding allows three additional NU researchers and several NU students to join the team.

NSRI Fellow Dr. Rebecca Lai, professor of chemistry at the University of Nebraska–Lincoln (UNL), and two post-doctoral students will execute deliverables for fundamental and applied aspects of biosensor research.

NSRI Fellow Dr. Carl Nelson, UNL Hergenrader Distinguished Scholar of mechanical engineering, and several students will contribute advanced prototyping and engineering solutions.

NSRI Fellow Dr. Eric Carnes, UNMC associate professor in the department of environmental, agricultural and occupational health, will collaborate with NSRI on advanced biological threat research. He will leverage UNMC's biosafety level 3 laboratory to test synthetic transport solutions being developed for DTRA.
Dr. Davis said: "Protecting our national interests in a world of rapid technological progress has never been more important, nor more urgent. I'm excited to be part of the NSRI team building technologies and solutions that fit the needs of our armed services and help protect our families here and abroad."
Dr. Carnes said: "I really enjoy the interaction within the DOD community. I get the opportunity to interact with many people from high-ranking officers and agency representatives to warfighters to get their input on how to best address their needs. Then we can circulate prototype tools for community feedback, ensuring a superb final product for use in the field."
Dr. Nelson said: "Participating in national defense research is an important aspect of serving not only the mission of the university but providing stability to the underpinning societal fabric that allows us to have institutions of higher learning. I hope that our work will have impacts in the long run to afford all of us a secure and safe environment in which to work together towards a productive global society."
###
About the National Strategic Research Institute
Through the National Strategic Research Institute at the University of Nebraska leading scientists deliver innovative national security research, technology, product and strategy development, training and exercises, and subject matter expertise to the Department of Defense and other federal agencies. One of only 15 DOD-designated University Affiliated Research Centers in the country, NSRI is sponsored by U.S. Strategic Command and works to ensure the United States' safety and preparedness against increasingly sophisticated threats. Read about our mission.