In October 2021, Dr. Thomas Mueller, NSRI research director for chemical defense programs, and Daniel Polanski, NSRI deputy director for field operations and training, were in Albuquerque, New Mexico, for final tests of "Dragon's Horn." The project was based on an operational unit's need for tools that require large quantities of compressed oxygen, which is not always available. The unit and its funding partner, the Defense Threat Reduction Agency (DTRA), tasked NSRI with developing a method for generating the oxygen on demand.
Led by Dr. Mueller, a team of chemists, engineers and operators from NSRI, the University of Nebraska–Lincoln (UNL) and Trinity Scientific developed the chemistry, containment system and interface required to produce the oxygen, contain the materials and operate the cutting torch.
"There is a tremendous amount of detail, logistics and expertise that goes into each and every effort we pursue. When it comes to chemical and biological capabilities and countermeasures, the easy problems have been solved. Now we're attacking the hard ones."
This reporting period had its share of hard problems for biological and chemical defense. The emergence of COVID-19 shined a light on gaps that must be filled for better response to biological threats, such as communication, detection and technology. In addition, the potential use of WMDs during Russia's invasion of Ukraine beginning in February 2022 led many U.S. national security leaders to focus on state-based actors who have access to sophisticated science and technology that can ignite chemical and biological attacks.
These momentous events demonstrated the reality that strategic attack against the U.S. and its allies can come through the nefarious use of nonkinetic chemical and biological weapons as well as accelerated strategic nuclear weapons. The threats of today and of the future are indeed more interconnected than ever before — the science should be, too.
Convening Research Capacity
NSRI brings chemists, biologists, engineers, computer programmers, data analysts, physicists, social scientists and medical professionals into the fold of its chemical and biological defense objectives.

Within this reporting period, the institute's appointment of 123 NU researchers as NSRI Fellows aimed to amplify its multidisciplinary approach for innovations of the future. The institute also provided seed funding for several projects, including a wearable sensor for detecting biological and chemical weapons.
The teams NSRI catalyzes collaborate at facilities and laboratories across the University of Nebraska System and across several nationally distributed NSRI facilities, each strategically located to facilitate interactions with national, regional and local CWMD customers and end users. In this reporting period, NSRI opened the Collaborative Biosecurity Laboratory at UNL to transfer its biological expertise to the areas of food, agriculture and environment.
After serving as a senior advisor for the Joint Program Executive Office for Chemical, Biological, Radiological and Nuclear Defense through the Intergovernmental Personnel Act, Marty Sikes returned to NSRI to lead the chemical and biological defense team as associate executive director.
"During the initial response to COVID-19 and since, the NSRI team and many of our DOD partners switched gears to provide expertise to mitigating the pandemic. But as our partners refocus their efforts, the many lessons learned and knowledge gained during COVID-19 has made NSRI and NU more ready than ever to conquer the next challenge."

Research Highlights
CWMD Defense Research and Support
With a focus on new and emerging threats, NSRI continues to lead independent verification and validation projects across a wide range of diagnostic and detection capabilities, platforms, assays and testing methods for DTRA. A new $9.6 million task order was announced in September 2021.
Full-Scale Chemical and Explosive Training
NSRI chemical defense and field operations and training teams planned and executed a full-scale explosive training experience for more than 100 active-duty personnel. The course focused on threat synthesis, precursors and equipment, identification of hazards and appropriate precautions when encountering chemical or explosive production facilities.
Biomedical Device Development
NSRI is contributing its decontamination testing expertise to a new biomedical device that will allow rapid sterilization of medical equipment in theater. The concept, created and led by the Naval Surface Warfare Center Indian Head Division, with funding from the Army's Combat Casualty Research Program in the Medical Research and Development Command, includes collaboration with scientists from the Johns Hopkins University Applied Physics Laboratory.
Bolstering Perimeter Defense Via Early Warning
To support DTRA's perimeter defense efforts, NSRI and UNL researchers and students developed a rapidly deployable network of biological agent early warning detectors and collectors. The devices notify an end user that a potential biological attack has occurred, mapping the location, time and weather during the attack. Samples are automatically collected for additional analysis.
NSRI worked with the New York 24th Civil Support Team to deploy and demonstrate the technology during a Department of Homeland Security (DHS) Urban Threat Dispersion exercise in New York City in November 2021. The NSRI system successfully detected simulated biological attacks at each exercise location, which included Times Square, Union Square and the World Trade Center campus. End-user feedback and system testing was critical to improving the technology and pushing forward to help reach DTRA's perimeter defense biological detection goals.
"This work has exposed me to new technologies and given me a great breadth of experiences. I have become a better software developer, critical thinker and coworker."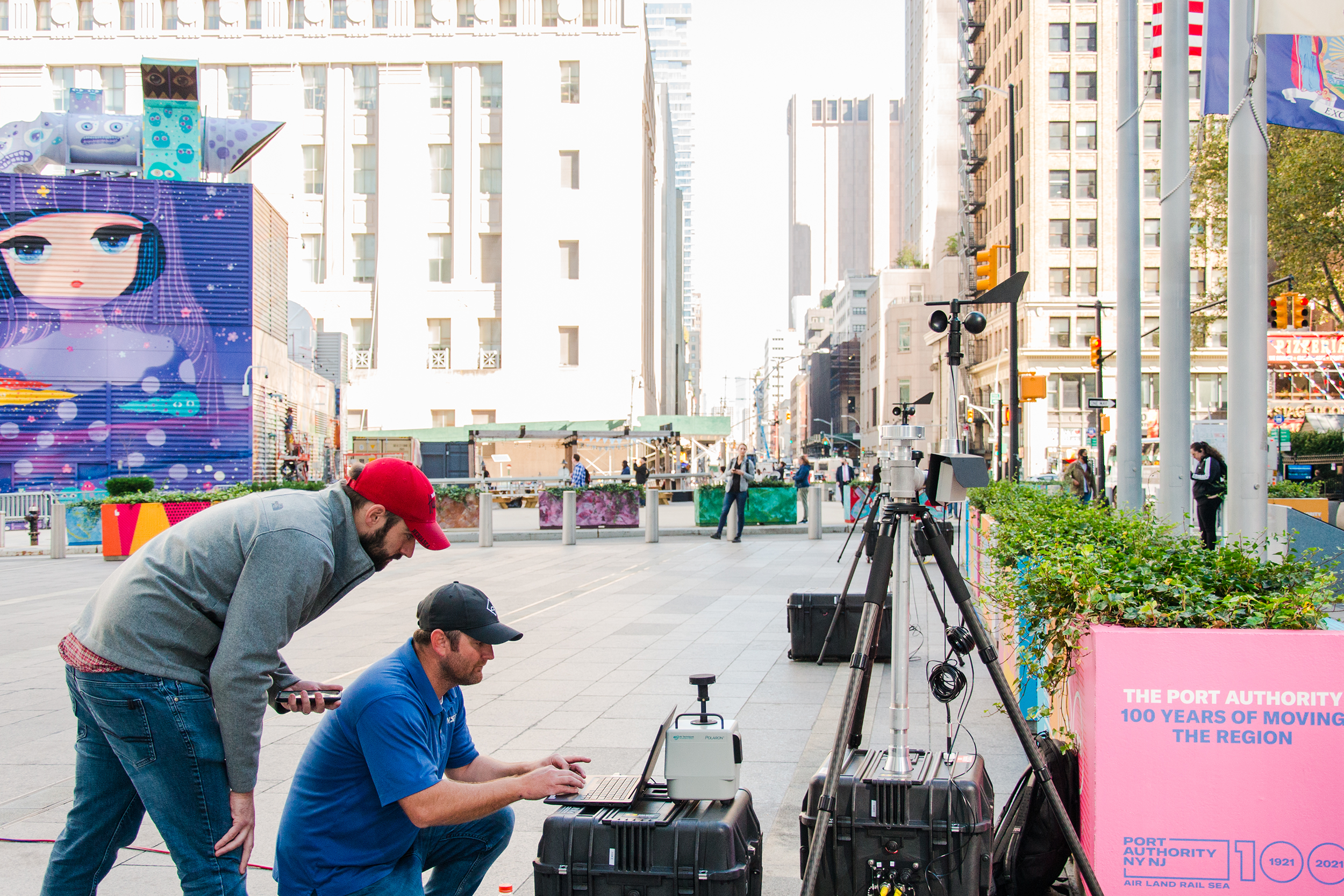 Drone Swarm Enhancements
Led by NSRI Fellow Dr. Justin Bradley, the UNL Nebraska Intelligent MoBile Unmanned Systems (NIMBUS) Lab is developing an algorithm to control drone swarms for intelligence, surveillance, target acquisition and reconnaissance missions.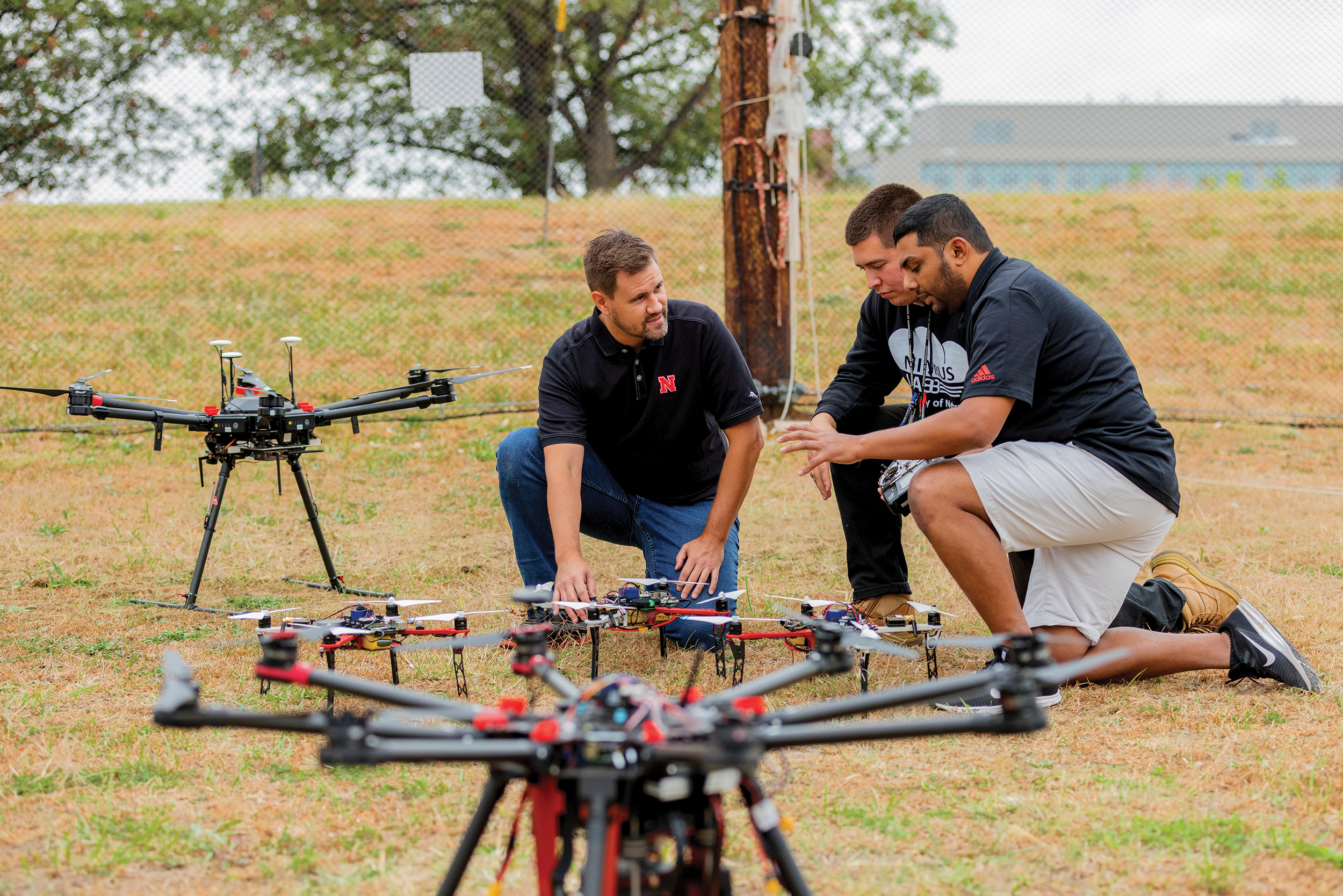 10 Years of Progress
From its creation, NSRI has been a productive problem-solving partner for customers across the CWMD mission space, a role conceived for the institute when it was first established as USSTRATCOM's UARC in 2012. While the Command's mission shifted, NSRI's spectrum of expertise has provided key foresight, especially given the real-world events of the last two years.
Of particular importance to the institute's impact in the chemical and biological defense space is the trusted relationship it has built with DTRA. Launched with a project entitled, "Lyophilizaton of Bioscavenger" in 2014, the partnership has led to 13 projects ranging from technology development to training, totaling $75 million in funded efforts.
Ready for the Future
The future of detecting and mitigating chemical and biological threats is difficult to predict given nearly daily advances in technology and the creativity of adversaries. The key will be proactive advancement of solutions that keep the U.S. and its allies in front.
Going forward, NSRI scientists expect to study warfare mitigation through the disciplines of artificial intelligence, machine learning, quantum computing and robotics. These and other technologies will help the nation's defenders innovate and evolve sensors with low power requirements and highly sensitive assays that are rapidly configurable, low-cost and capable of predictive algorithms necessary to stay ahead of threats.
"We live in a world where technology is pushing the threat at an exponential rate, but we shouldn't limit technology because the benefits outweigh the costs. We have to adapt to meet the challenges faced by technological advances."
###