After several years working directly for DOD components, Dr. Alicia Schiller became the director of combat casualty care at UNMC, leading the department of anesthesiology's human physiology research laboratory and serving as an NSRI Fellow.
Her most recent NSRI project seeks to identify the best ways for medical personnel to acquire procedural skills, such as intraosseous line and chest tube placement, especially in military populations. In conjunction with Tripler U.S. Army Medical Center in Hawaii, the project team is developing sophisticated, actionable training tools for low-frequency, high-value procedures not often performed but important to get right when they are needed.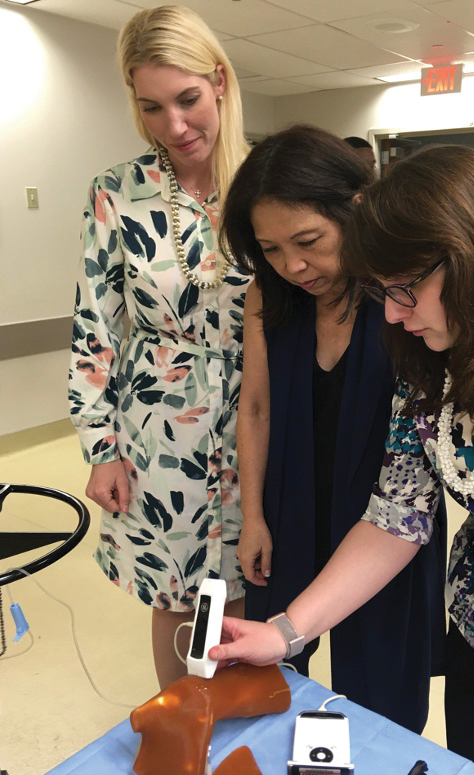 Ensuring medical providers are ready is the kind of work that saves lives — and this readiness is needed now more than ever.
CBRNe threats are as much or more of a reality today as they have ever been. Sarin, the most widely used chemical weapon, was used as recently as 2017 in Syria. The world has not yet fully emerged from the COVID-19 pandemic. Synthetic biology makes possible the creation of pathogens that can be more infectious and more lethal than those that occur in nature. Russia and China have expanded their nuclear arsenals, and potential nuclear weapon use was the highest it has been since the Cuban Missile Crisis when Russia invaded Ukraine in Spring 2022.
Beyond the death, geopolitical and socioeconomic impacts, an unfortunate outcome of the COVID-19 pandemic that must be acknowledged is that it exposed vulnerabilities that U.S. adversaries have surely noticed. Readiness for a potential threat serves as a strategic deterrent to that threat.
Problem-Based Solutions Key To Future Success
NSRI works collaboratively with USSTRATCOM, its UARC sponsor, other federal government customers and research scientists to fully understand gaps and needs and ultimately develop productive solutions. CBRN challenges call for solutions that match the factors of complexity and the scope of potential related outcomes. This may call for mitigation from disease surveillance, affected population management and its psychological impact, area decontamination to support continuity of operations and mortuary affairs. Often, it is necessary to leverage multiple academic disciplines.
NSRI projects throughout the last two years have included diagnostics, therapeutics, threat characterization and disaster medicine. All have built on past work in areas such as patient transport, therapeutics and aerosol threat characterization for COVID-19. NSRI and NU offer deep expertise across disaster medicine and global health security, high-consequence pathogen-infected patient management and drug discovery and development.
To enhance its ability to rapidly form research teams that possess the right skill sets to solve problems, NSRI accesses NSRI Fellows, NU researchers who were appointed during this reporting period, and the broader university research community.
"Gaps identified are opportunities for NSRI teams to meet the equally critical needs of both the military and the civilian community. We will continue working hand-in-hand with other NSRI researchers, from operations and training to teams targeting specific spectrum-wide threats, to determine where medical countermeasures can come into play."
Developing future scientists for this space is also a solution to an identified future challenge. Dr. Joshua Santarpia, NSRI science and technology advisor, launched the biological defense and health security doctoral program at UNMC in fall 2020.
Research Highlights
Respiratory Recovery From Chemical & Biological Injury
Through a $10.3 million contract with DTRA, a team of NU researchers is investigating novel therapeutic, prophylactic and pretreatment approaches for respiratory recovery and exposure to chemical and biological threats. The team is working from four NU laboratories to deliver bacterial, viral and chemical aerosol characterization studies; threat studies; and support for medical countermeasures development. The project leverages the Nebraska Drug Discovery and Development Pipeline (ND3 P), discussed in the following section, to develop capabilities that can move molecules forward for drug development.
"Thanks to the expertise of the investigative team, we will be able to characterize potential chemical, bacterial and viral threats and evaluate their stability and respiratory threat potential."
Technology For Monitoring & Analyzing Soldier Readiness
Dr. Aaron Likens, UNO assistant professor in the Center for Research in Human Movement Variability, is working with the U.S. Army Combat Capabilities Development Command's Soldier Center (CCDC SC) in Natick, Massachusetts, to develop a digital readiness toolkit that analyzes soldier movement and physiological processes in the field, empowering military leaders with objective data to help them make critical decisions.
"This technology will give unit leaders and the soldiers themselves more information about how the unit is performing in real time, allowing them to make informed decisions that may impact mission success."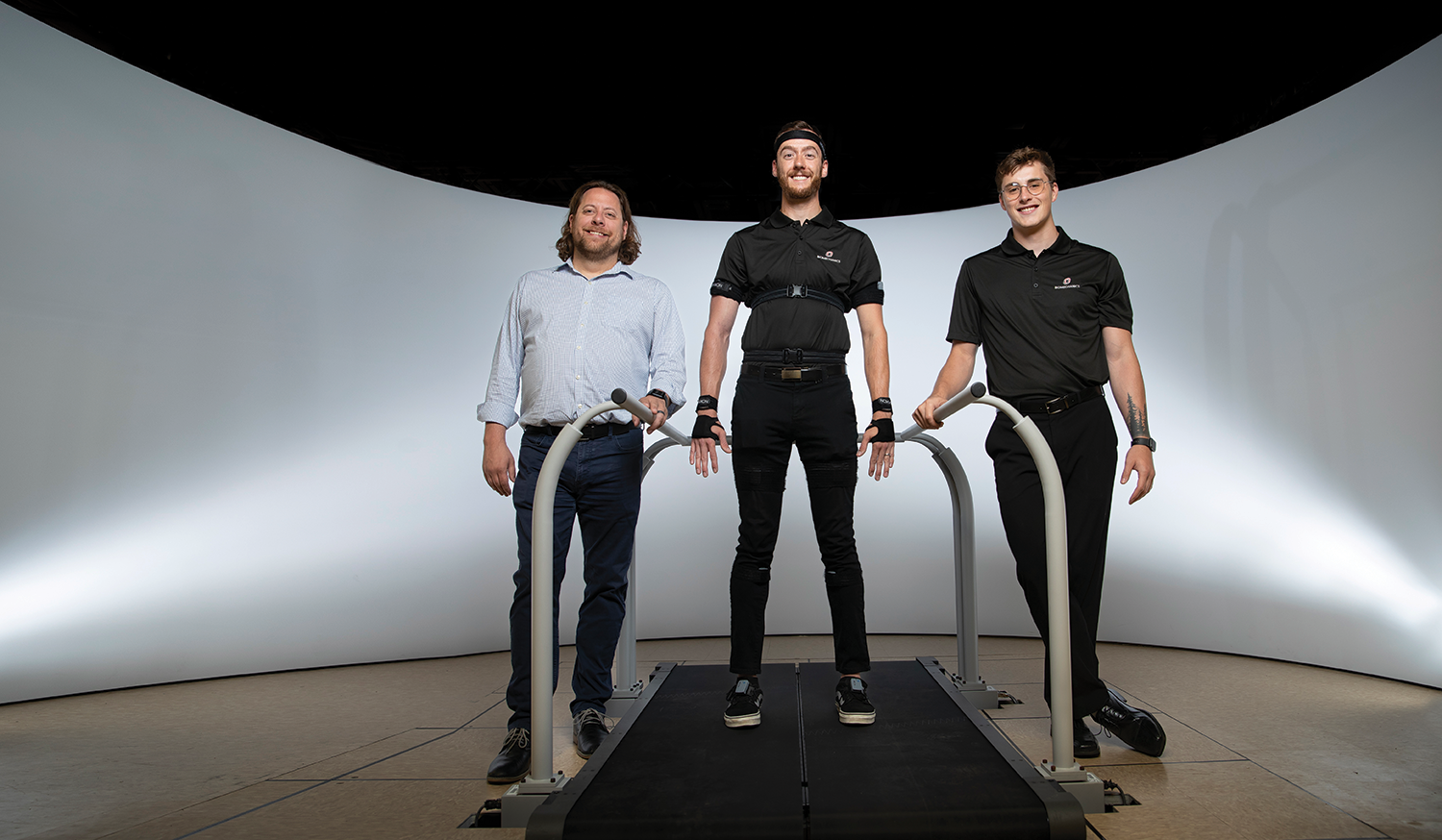 Assessment Tools To Improve Combat Medical Training
Dr. Schiller and her colleagues developed novel medical simulation techniques for training, validating and maintaining combat casualty care skills. Using visual recording, software for evaluation including ergonomics and the development and use of 3D printed task trainers, the tools measure frontline military medical personnel skills acquisition, readiness and degradation. In addition, the project provided a strategic plan for implementation and assessment technology to support medic training and health care provider readiness and performance.
"Combat medics are often the first on the scene to provide trauma and medical care to injured warfighters. With this project, we hope to enhance medical skills training of combat medics and first responders to ensure the readiness of our fighting force."
10 Years of Progress
NSRI's involvement in the medical countermeasures arm of deterrence and defense has bolstered the growing national cache of lifesaving medical solutions for warfighters and first responders throughout the past decade. Through the institute, NU faculty have aligned their research interests with national security priorities. Following are just a few featured researchers.
Dr. Ken Bayles, UNMC associate vice chancellor for research, has earned more than $20.6 million in contract awards through NSRI, starting with a next generation anthrax vaccine in 2012 and leading to the development of ND3P. ND3P brings more than 250 NU researchers together to fill a gap created by unprofitable pharmaceuticals needed for the military. It is currently addressing a critical need for prophylaxis and treatment for Acute Radiation Syndrome.
Dr. Mike Wiley launched his NSRI "career" in September 2015 with the project "Global biosurveillance technology initiative training," which provides next generation genomic diagnostic capabilities for host nation capability and capacity enhancement. Since then he has led two additional projects for a total of nearly $11.8 million in funding.
Also in 2015, Dr. Keely Buesing, UNMC professor of surgery, was invited to help develop a microbubbles therapy that delivers lifesaving oxygenation to respiratory compromised patients through colonic or intraperitoneal administration. Dr. Buesing has engaged NSRI as NU's UARC to secure three contracts totaling nearly $9.8 million.
Ready For The Future
The COVID-19 pandemic is a stark wake-up call for the U.S. to take biological threats seriously. The world has learned many lessons from the pandemic, including that these types of threats can cripple the U.S. and global economies and infrastructures. In addition, chemicals represent a unique force multiplier that simply cannot be ignored in the 21st century, evidenced by their use in Syria. The war in Ukraine has also revived discussions of the strategic complexity and potential for radiation injuries that would follow a nuclear incident.
Ongoing work through NSRI and ND3P will offer a new model for academic research that bridges the gap between academia and industry, nurturing collaboration among NU, private enterprises and the U.S. government. It could mean hiring faculty with expertise in big pharma, purchasing equipment to support projects and building resources such as compound libraries. Overall, the goal is to increase bandwidth and get more people involved.
"We are building capabilities in preclinical studies and growing our expertise in clinical trials."
Dr. Woollen also expects continued research into microbubbles and field treatment.
As the only DOD UARC with a biomedical focus, NSRI is an ideal resource for defense stakeholders who need to talk directly with researchers about real problems that need solutions.
###