In summer 2021, Dr. Christopher Yeaw, with a team of subject matter experts, delivered two critical papers pro bono in less than three months to the highest levels of U.S. Strategic Command (USSTRATCOM). The four experts brought forward an expansive understanding of nuclear weapons design, policy analysis, and military and nuclear intelligence, tapping roughly 130 years of combined experience in strategic deterrence.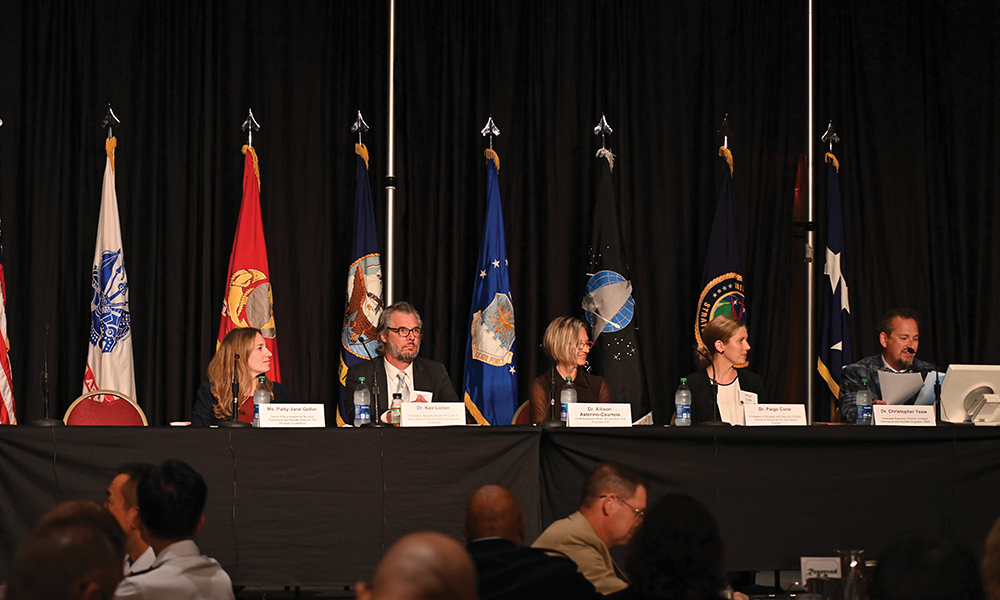 Driving this intensity was development of the nuclear arsenals of both Russia and China, a matter that falls squarely on the shoulders of USSTRATCOM. The NSRI team made significant headway in exploring the escalatory attraction of limited nuclear employment and the challenge of Russia's nonstrategic nuclear weapons.
"The U.S. has entered a phase of geopolitical climate in which we must deter two nucleararmed peers, each posing an existential threat to this nation, and both in alliance with each other," Dr. Yeaw said. "This new territory demands new thinking, new planning and new solutions to generate the deterrence necessary for the foreseeable future. And that is the primary reason NSRI exists as USSTRATCOM's UARC."
Russia's unprovoked territorial assault on Ukraine in February 2022 unearthed concerns about a live nuclear event that had lay latent since the 1962 Cuban Missile Crisis. It also brought forward a significant public conversation about nonstrategic nuclear weapons, or "tactical" nuclear weapons, where the U.S. is significantly outgunned by Russia by as much as ten or more to one. The escalated threat imposed by the tripolar dynamic is further compounded by the continued efforts of smaller nuclear players, such as North Korea and Iran.
These security threats raise significant research and policy questions at the highest levels — questions that highlight USSTRATCOM's pivotal role in our nation's national security. Challenges faced by those at the Command range from strategic indications to tactical warning, from deterrence to escalation management, from detection to attribution, from mitigation to resilience, from response to consequence management and from the reestablishment of deterrence to war termination.
USSTRATCOM calls upon leading experts to bring forward advancing technology and new theory that can keep pace with the challenges.
Building for Long-Term Stability
During this biennial reporting period, NSRI, as USSTRATCOM's UARC, grew its network to match the evolving challenge, aligning with both USSTRATCOM's primary mission, strategic deterrence, and the Command's top priority, modernizing the triad.
Strategic Leadership
From the executive director and board of directors through the research strategy leaders, NU and the NSRI made several strategic hires to boost support to USSTRATCOM.
Amplified Expertise
NSRI's new leaders bring forward expertise and experience, specifically in Joint Electromagnetic Spectrum Operations (JEMSO), a critical component of NC3 and an area USSTRATCOM leads advocacy for within the DOD. NSRI also further built out its bench of senior-level nuclear consultants with hundreds of years of combined expertise across nuclear policy, nuclear weapons design, intelligence and nuclear safety and security. This bench is accessible for ad hoc working groups and research teams as needed by customers.
NNSA Partnership
Through a $25 million indefinite delivery, indefinite quantity (IDIQ) contract vehicle with the Department of Energy National Nuclear Security Administration (NNSA), a strategic partner of USSTRATCOM, NSRI is providing nuclear weapon mission space and design parameters, iterative wargaming, warhead technical verification, policy research, wargaming knowledge management and more.
Researcher Engagement
Several of the 123 NSRI Fellows have worked on projects within this space and many more stand ready to support. Through NSRI IRAD, four projects have been seed-funded to contribute to strategic deterrence research: multi-actor deterrence analysis methodology and laboratory; modeling and visualization of competing escalation dynamics; how neuroscience can inform nuclear security; and nuclear deterrence theory for a multipolar world.
Research Highlights
Research for Strategic Deterrence in the Tripolar Era
Admiral Charles Richard, USSTRATCOM commander, sponsored a Strategic MultiLayer Assessment (SMA) reachback analytic effort to inform senior leaders on decision-making strategies now needed to address two determined nuclear rivals. NSRI researchers were key players on the SMA team, going on to research, analyze and recommend strategies centering on geopolitical issues.
Wargaming for NNSA
Kicking off its new partnership with NNSA, NSRI is designing, developing and executing a wargame as an analytic correlate to a warhead design seminar series. While the seminar series, being conducted in parallel, will consider a wide range of possibilities for nuclear weapon missions and design implications, the analytically linked wargaming series will attempt to introduce a selection of those future mission and design possibilities into the context of conflict and explore the effects on deterrence and escalation dynamics.
International Security Implications Research
Through NSRI, Dr. Michelle Black, University of Nebraska at Omaha (UNO) assistant professor of political science, led a team of students for the institute's first North Atlantic Treaty Organization (NATO) research contract. The research team developed a methodology that could be adapted to future challenges within a complex international system. They also worked closely with NATO colleagues to begin testing the methodology and are developing further experimentation opportunities.
"The NATO project was my first exposure to deterrence and national security, even a little bit of intelligence. Now I am open to both international relations and national security work."
Nuclear Surety Policy and Guidance Research
Leveraging NSRI's nuclear certification expertise, collaborators led by NSRI helped update the DOD Nuclear Weapons Surety Program regarding technological shifts that have affected U.S. nuclear forces.
Nuclear Certification Research
An interdisciplinary NSRI team presented research findings from their rigorous examination of the Navy and Air Force nuclear certification processes. The project identified differences in certification approaches, assessed guidance and directives and identified opportunities for improvements.
Tripoloar Nuclear Game Theory
Game theory was employed extensively in the Cold War but little research has been conducted to apply it in the new geopolitical environment. NSRI Fellows Dr. Dustin White, UNO assistant professor of economics, and Dr. Jacques Bou Abdo, assistant professor of cyber systems at the University of Nebraska at Kearney (UNK), received NSRI IRAD seed funding to pioneer tripolar game theory. They also led NSRI 2022 strategic deterrence interns in an effort to offer recommendations for future research to NSRI and USSTRATCOM.
"This is a fresh field and a way Nebraska can tangibly support the mission of USSTRATCOM. I am excited to have launched this work with NSRI."
10 Years of Progress
NSRI was initially created as USSTRATCOM's UARC to provide research support to the CWMD mission that the Command was charged with from 2002 through 2018. When that mission was moved, NSRI and NU quickly invested in capabilities to remain valuable to and trusted by USSTRATCOM.
A foundation for the institute's trajectory in this focus area was the development of the NSRI Limited Nuclear Conflict wargame in 2019. The experience immerses participants in an intense nuclear escalation scenario based on a Russian invasion of Ukraine, a scenario magnified by the real-world events of 2022. NSRI has used the wargame with select DOD leaders to help them expand their knowledge through lengthy discussions of nuclear signaling, strategic messaging, nuclear response options and more.
The institute has also grown its strategic deterrence internship program to invest in the future workforce for this space. Students gain an understanding of the political and military landscape that drives deterrence theory and policy while expanding their skill sets to deliver research products directly to USSTRATCOM. The interns brief top officials in person at the Command's headquarters, including Lt. Gen. Thomas Bussiere, deputy commander, in 2021 and 2022.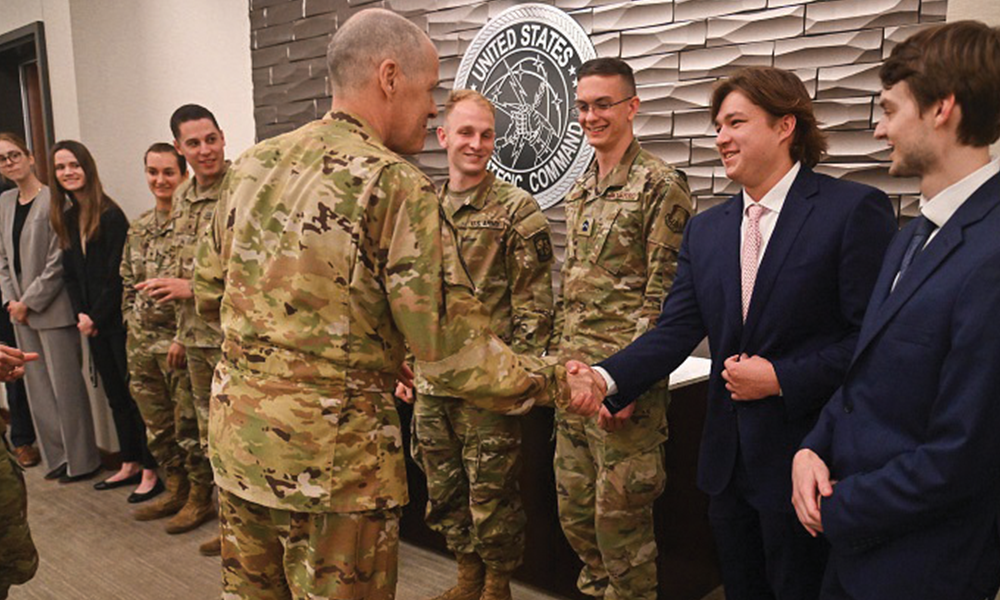 Ready for the Future
In the coming years, in partnership with NU, USSTRATCOM, DOD, NNSA and others, NSRI will engage in projects responsive to the changing deterrence and nuclear landscape and demonstrate that the U.S. is willing to proceed credibly, judiciously and defensively.
Hypersonic weapons, space defenses, cyber defense, artificial intelligence, theater-range low-yield weapons and a sea-launched cruise missile could all be new focuses of this team. NSRI is uniquely positioned to assist through its proven role as a convener, connecting resources that actuate research, analysis and production. As the institute grows, the well into which defense agencies can dip for support from NSRI will deepen.
"It's about rethinking what we thought we knew and building a network of solutions that not only makes the U.S. ready to defend against any nuclear action but also puts our adversaries on notice. That's what deterrence is all about."
###